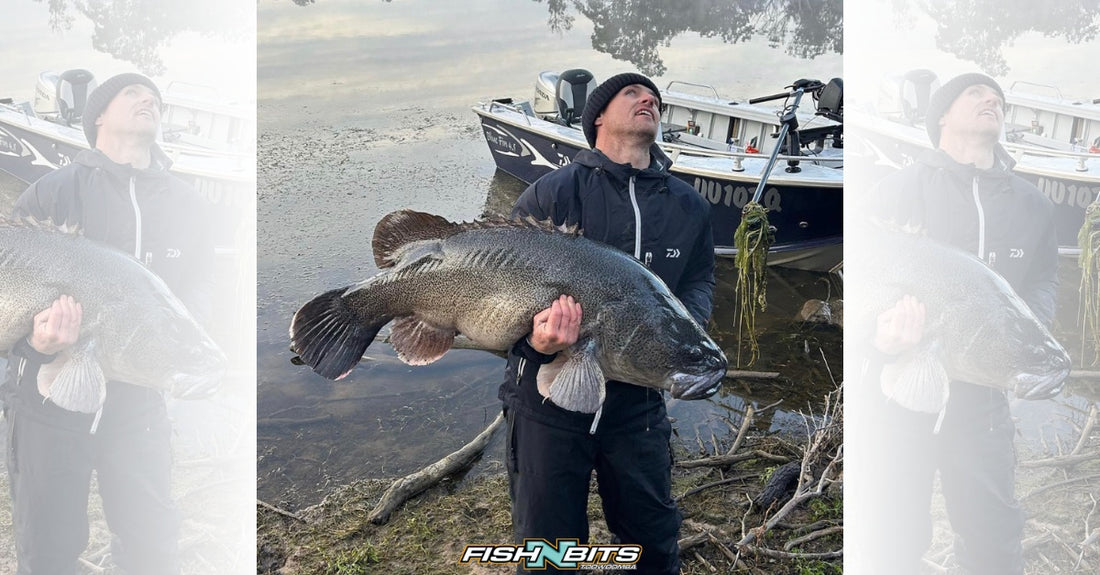 Fishing Report 23rd June 2023
Photo: Troy Sweeney with a Giant 116cm from Leslie last weekend. 
Share us your catch HERE
New Store Now Open. Come Check it Out!!


Product Of The Week - Smak Ice Jigs
Smak Ice Jigs are Back.....The SMAK Ice Jigs are the first Australian-made and Australian designed ice jig. Developed by anglers who frequently used jigs with great success.

With two unique tail designs, the "Darter" and the "Glider" and the SMAK Ice Jig can be used out on the open flats or around tight structures. The Smak Ice Jig is easy to use. Just let the ice jig down to the depth required and a sharp jigging action will bring your lure to life.
Find them HERE
Fishing Our Region
Cooby - Our popular little lake has again fished well this week, with a lot of anglers getting in some good sessions despite the cold weather. ZX Blades and soft vibes have produced some very good numbers out in front of the sail club and up the northern arm, concentrating on the 20ft mark has been successful. Bait anglers have caught good fish both from the bank or boat, saltwater yabbies and live worms being the better options.

Leslie - The Yellow Belly have yet to shut down, still fishing unbelievably well. The isolated structure off the edges of the creek bed has had the best results, working Blades and soft vibes again have been hard to go past. If your willing to put the time in for the big fish, plenty of Cod have been on the Move. Targeting the shallower edges of rarkyb, morning will give you the best chances, swimbaits and larger chatterbaits being productive.

Somerset - Somerset has been a little hit and miss the past few weeks and it continues, the colder weather has made anglers make some adjustments. The northern end of the lake has started to hold a lot more numbers as these fish move further up the lake at this time of year, the shallow flats along Queen street and Kirkliegh has been best, while pelican point is still a good area to start your search, plastics and spoons getting the better quality of fish. Smak Ice Jigs have also been a favourite for a lot of anglers.

Wivenhoe - By far the pic of our Bass Lakes and with good reason, this lake is always in tune come winter time and this winter is no different. Plenty of schooled fish holding out from Billy's bay, the Quality of fish has been unbelievable, a wide variety of spoons have been working well, as for the edge fishing it's been good if not better. Deep diving cranks like the Hide up 300 and 400 has been popular and you can't go past the forever faithful Jackall TN60.

Moogerah - Great to see this lake back to its former glory with plenty of fish around, the flats inside the timber have fished the best while the main lake points are also holding good fish. Again like other lakes, soft plastics like the slider grub has been popular and a range of Metal blades and spoons.

Copeton - It's been a slow start to winter but the cold frosts have arrived which really makes these fish become a lot more active, shallow grassy bays is your best place to start, these fish are smartening up with wood of fishing pressure so be sure to be as stealthy as you can, minimal use on the electric motor. Swimbaits like the Jackall Gigantarel and Gantarel is always a hard bait to go past while big Top waters like the Balista has been popular.
The Weather
No forecast available at time of posting. see link below.
Toowoomba Region - 7 Day Forecast
Due to the changing weather conditions, please check
www.weather.com.au
 for more up to date information.

BIG CATCH Jackpot Promotion
Are you our lucky winner? Each week one luck customer will be drawn at random to win the Jackpot which starts at $25.
For each week that the jackpot is not claimed the prize will increase by $25. Jackpot resets to $25 once claimed.
CURRENT JACKPOT $50