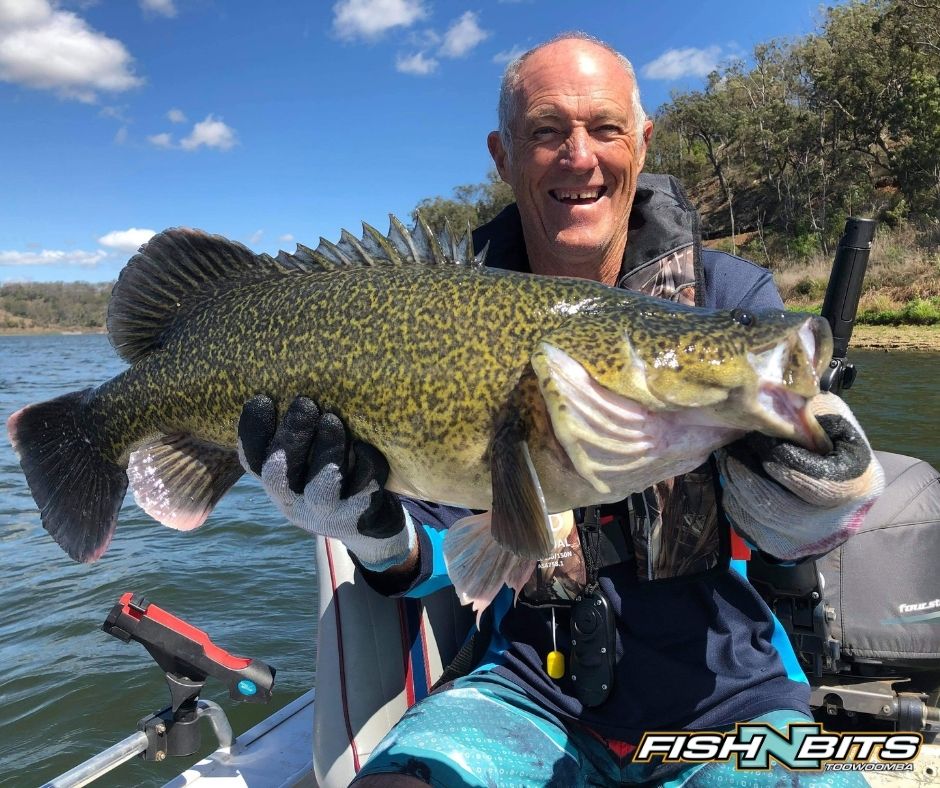 Fishing Report 19th September 2020
Photo: Don Gallegah with this Cod caught at Cooby Dam
Lure of the week


Hot Bite Spectre Vibration Jig
The Spectre Jigs are a sinking chatter bait that has proven to be great on all species especially the bass and they have been working great lately on the schooled bass in the deep water.Find them here: Hot Bite Spectre Vibration Jig
Leslie Dam
As expected the fishing is improving as the weather starts to warm up. We have seen a big rise in the number of yellow belly landed this week and there has also been some big cod caught. Salt water yabbies and Ecogear Blades have worked best in the deeper water in the creek bed. While spinnerbaits along the edges have produced some big cod and nice yellow belly.

Cooby Dam
Like LeslieDam, Cooby is just waiting on some warmer weather and again have seen some better fishing this week. Early morning and late in the afternoon have been the better bite windows. Again salt water yabbies and blades have worked well but with the warmer weather its starting to bring them off the bottom and trolling hard bodes will come in to its own.

Cressbrook Dam
Similar results this week with the bass hit and miss. small bite windows throughout the day where the schooled bass turn on and have been biting on reaction style lures like spoons and tail spinners. Locating the bass first is key. On the up side there have been some nice yellow belly landed out there on salt water yabbies and live worms. Fish have mostly been located out front main points in the lake.

Somerset Dam
Some really good fishing at Somerset with some massive bass and good numbers this week. Schooled bass around Red Rock and Kirkleigh just on the edge of the creek bed in around 30ft. Spoons and soft plastics have been best baits. There has also been some nice yellow belly caught up in the start of the timber which might be a good spot with all the boat traffic around this coming week.

Boondooma Dam
Lots of happy anglers at Boondoomba with it being one of the best fisheries around this year again the fish continue to bite well on all sorts of baits and lures. There is a good bite up on the edges as well as schooled fish in the deep. Trolling bait fishing and casting have all worked well its the place to be at the moment.
Further north the lakes have been really fishing well. Canid Dam and Wurooma have had very good reports of bass the last couple of weeks.

Tip Of The Week
School Holidays start this weekend and lakes like Somerset and Moogerah will be really busy with the skiers and holiday makers for the anglers looking to smaller non skiing locations could be good otherwise fishing up in the timbered areas of these lakes could prove fruitful.


Toowoomba Region - 7 Day Forecast