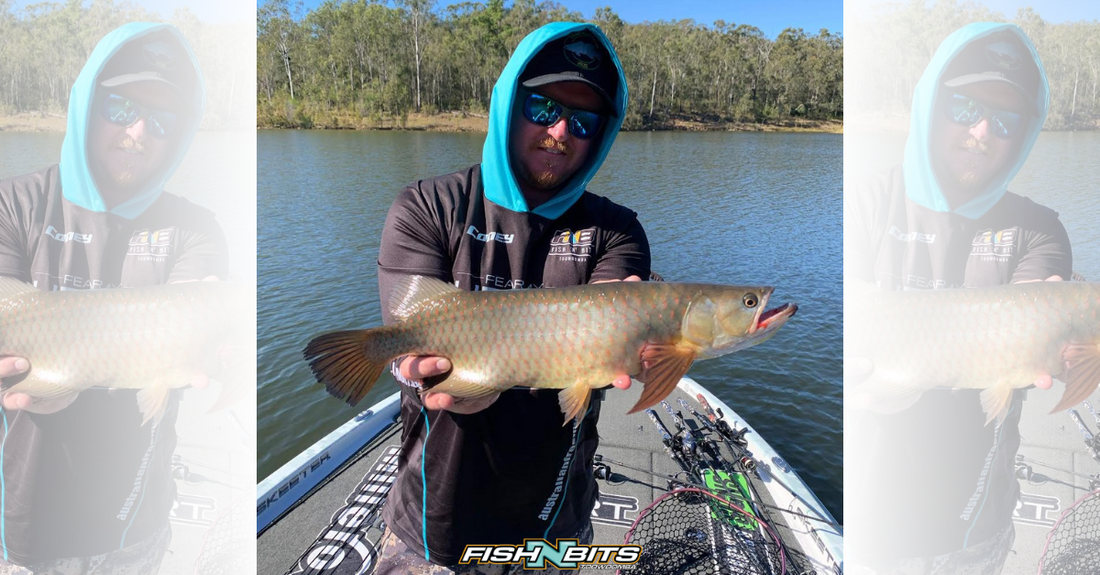 Fishing Report 26th May 2023
Photo:  Mitchell Cone with a nice Somerset Toga from last weekend
Share us your catch HERE
Product Of The Week - Jackall TN38 
This new lure comes with a new unique sound! Produced by the tungsten internal rattles and clear body. Equipped with OMS (out metal system) to achieve high castability, excellent obstacle avoidance performance and quick action start up.
Available in a massive range of fish catching colours. 
From  Bream to Bass & Yellow Belly this bait has it all. 
Fishing Our Region
Cooby - It's been quite a good week on our local lake, the weather has been fantastic during the week allowing anglers to get amongst the fish. Metal Blades like the ever faithful Zx40 & 43 has proved to be the best option while soft vibes also fished vertically have also created a lot of interest. Good sized Yellow Belly have been caught, targeting the spindly trees and deeper submerged structure is your best bet. Since the colder weather has hit the trolling anglers have found it a little more tough. If that's your interest working lipless crankbaits and deeper hardbodies have worked best. Saltwater Yabbies and Live worms have been productive for other fisherman. 


Cressbrook - A lot of smaller fish around this past week, quite a few of fish have been located off the main lake points and up into the Cressbrook Creek arm. 
Blades again have been successful, Everygreen Little Max and Flash Union Blades have been popular. A few anglers have had success working the edges with 61 & 67 Squirrels aswell as the Daiwa Double Clutch Jerkbait, long pauses are key!


Leslie - Leslie stays the same with plenty of quality yellow belly still being active, the deeper water is where it's at, finding isolated structure off the edge of the creek beds has had the best results. Zx Blades and soft vibes working yet again. For the bait anglers saltwater yabbies proving dominant yet again. 


Somerset  - A recent Tournament on our big fish lake resulted in quite a tough weekend for a lot of anglers. The boat traffic Realy paid its toll on the school fish with them shutting down and being very hard to tempt. The edge fishing was the stand out for the bigger fish. Again Jackall Squirrels and other similar baits got the results. Pelican point is holding massive numbers of fish still its just a matter of being patient until they bite, a wide variety of baits from, Blades, Deep Crankbaits, spoons and plastics all had there time. 


Moogerah - It's been a little quiet this past week but it won't be long and the winter bite will be at its best. The flats amongst the timber is holding plenty of fish it's just a matter of time before they start to bite. Soft plastics and spoons will be your best option. Ice jigs are another great option on this lake. 

Glenlyon - The time of year is here when the big fish come out to play and we are already seeing what this lake is capable of. It's been all about shallow swimbaits and topwater. As we go further into winter it's only going to get better. Finding shallow points or bays with bait is key for finding those active fish. During the day Targeting those other deeper banks with both Spinnerbaits and chatterbaits has also been productive. 


The Weather
Toowoomba Region - 7 Day Forecast
Due to the changing weather conditions, please check
www.weather.com.au
 for more up to date information.

BIG CATCH Jackpot Promotion
Are you our lucky winner? Each week one luck customer will be drawn at random to win the Jackpot which starts at $25.
Week 9 winner Raylene Jones took out the Jackpot at $225. Congratulations Raylene Jones!
Week 21 winner Dave Newton took out the Jackpot at $300. Congratulations Dave!
First winner for 2023 Brett Jobling took out the Jackpot at $325. Congratulations Brett!

For each week that the jackpot is not claimed the prize will increase by $25. Jackpot resets to $25 once claimed.
CURRENT JACKPOT $75