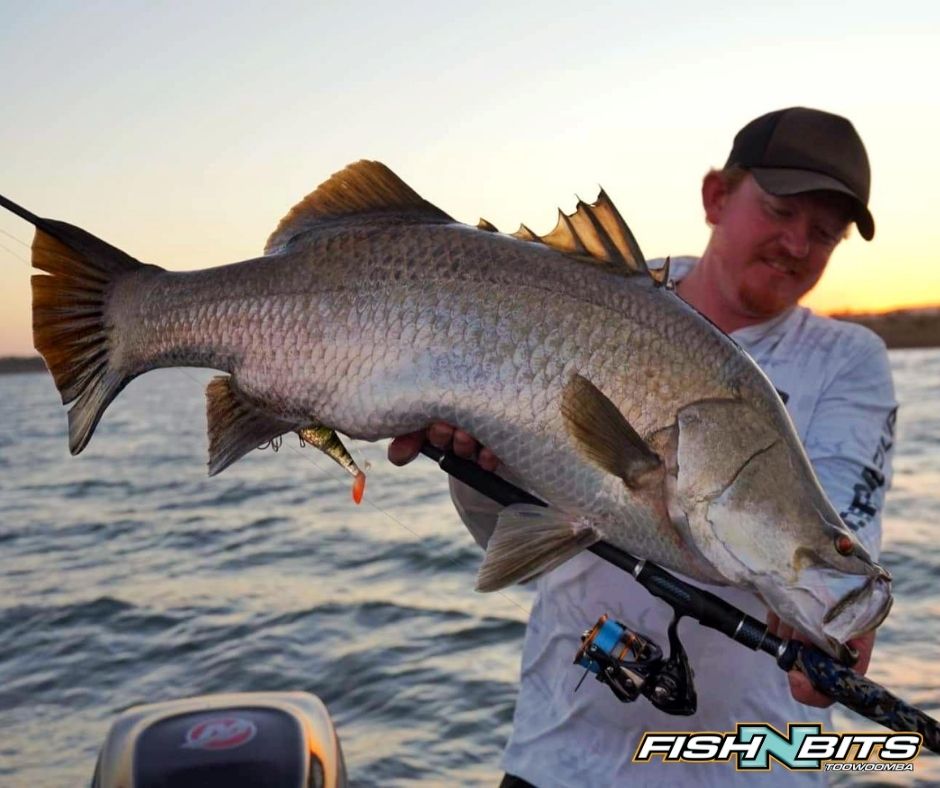 Fishing Report 3rd December 2020
Photo: Mitchell Cone with this fine Barra caught at Lake Awoonga
Lure of the week


Daiwa Double Clutch 115
The Double Clutch has been a staple across light-tackle anglers for many years now. Renowned for its incredible darting action, Double Clutch has earned its praise as one of the must-have lures in the tackle box. Now, it's time for everyone to experience the action and fish-catching ability of Double Clutch, with the introduction of the 115mm size, designed & produced specifically for Australia.

There's no doubt the demands of Barramundi anglers ask a lot of the tackle they use, with many lures on the market falling short of the durability required to be a go-to lure for northern anglers. That's why when making the Double Clutch 115, Daiwa engineers started from scratch, and focused on producing a lure which could emulate the action of the smaller Double Clutch series but incorporate a solid and strong through-wire system. Incorporating the through-wire system with a heavy-duty body construction, Double Clutch 115 is ready to meet the challenge. Fitted with 4X Japanese treble hooks and split rings, there's no need for aftermarket tuning to make this lure ready for battle.
Find them here: Daiwa Double Clutch 115
Cooby Dam
Cooby dam was opened by the council this week. As it has just been reopened there have been little reports coming in, however in the past after this dam has reopened, typically it has fired. With the warm weather it'll be one to keep a close eye on.
Cressbrook Dam
Consistent reports coming from Cressbrook over the last week, with the warmer weather settling in the earlier you're on the water the better. Out from the ramp on the edge of the creek bed has held good numbers of fish that are willing to eat, Plastics being the go to lure for most anglers while spoons and blades picking up good fish also.

Somerset Dam
Tough fishing over the weekend on the local big bass lake, hot weather conditions pushing fish to the bottom and making it hard to get bites, fishing slow is key. Bay 13 and Queen Street were the go too areas, again plastics and spoons were the pick of lures. The trolling anglers had good success, the Smak hard body range is hard to beat for this technique. Midweek would be the pick of the times to head out there, as coming into the Christmas Holidays there is a lot of fishing pressure during the weekends, along with countless skiers.

Boondooma Dam
Still by fair the pick of our SEQ impoundments, plenty of good quality fish caught over the weekend, both in schools and on the edges in the morning and late afternoon, the deeper fish have reacted very well to plastics and more subtle baits like spoons. The edge bite has really turned it on with this weather heating up, from jerkbaits too spinnerbaits, they haven't been fussy.

Maroon Dam
Good reports coming out of Maroon over the last week, the edge bite has been red-hot with many fish coming from the weed edges on chatterbaits and jigs, into the afternoon and night the topwater bite has been nothing but great if the weather permits and the wind isn't blowing. The D-Style Reserve has accounted for a lot of big topwater fish.

Lake Awoonga

Consistent reports coming in from Awoonga and its only getting warmed up. With the northerly breeze hanging around the southern part of the dam will be your best bet, Goldmine Point is always worth a look, Ivory Creek has produced big numbers of fish of late, targeting the deeper bays and points with Jackall Squirrels and Molix 140 has produced the best results.


Lake Monduran
Well known for being Lake misery this impoundment is producing numbers of fish well beyond expectations, Predominant points in the main basin are holding good numbers of fish, these fish can be easily trolled as there sitting out in the open rather than in the tight trees where this technique can be quite hard to do, the casting anglers have been the consistent catches though, casting Molix 140's and the ever faithful Slig rig is been well and truly a fish catching machine. Targeting the Shallower trees and wind blown points with Hardbodies like the Jackall squirrel has been very successful during the heat of the day


Toowoomba Region - 7 Day Forecast