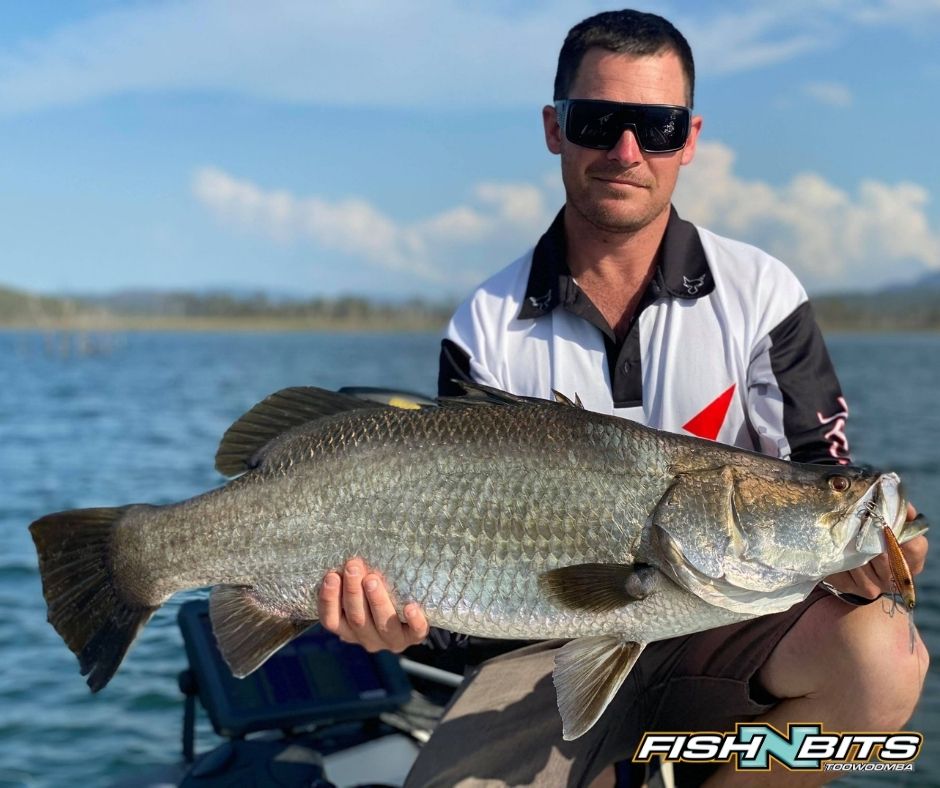 Fishing Report 26th November 2020
Photo: Brock Pohlner with his catch at Lake Awoonga
Lure of the week


Vertrex Swim – THE SOFT VIBE RE-IMAGINED
The VERTREX SWIM is a unique swimming soft vibration bait. It is the first lure of it's kind that swims when sinking and also vibrates when lifted creating an irresistible combination for any species.

Nomad Lure Designer Damon Olsen has designed a finely tuned body shape and internal weight combination that glides and swims when sinking imitating a lifelike swimming baitfish.

Lift the rod and it vibrates and let it free fall and it swims, there is simply nothing like the Vertrex Swim. It is designed to be fished vertically, and can be cast and retrieved or dropped straight down, but is best fished with a fast lifting rod action to create vibration, followed by giving it slack line to swim down.

The Vertrex features a full wire internal construction for extra strength, and is fitted with the ultimate BKK trebles so you can fish it straight out of the box.
Find them here: Nomad Vertex Swim Vibe
Cooby Dam
Cooby Dam remains closed for all boating, fishing and picnic activities. Each week water is tested to ensure it meets safety standards for recreational activity (direct contact without water treatment). Enterococci toxins are currently at 105 CFU per 100ml and this needs to be under 35 CFU per 100ml. We are hopeful this will improve and allow for re-opening in the coming weeks. Dam status can be found HERE
Cressbrook Dam
Consistent reports coming from Cressbrook over the last week, with the warmer weather settling in the earlier you'r on the water the better. Out from the ramp on the edge of the creek bed has held good numbers of fish that are willing to eat, Plastics being the go to lure for most anglers while spoons and blades picking up good fish also.
Somerset Dam
Tough fishing over the weekend on the local big bass lake, hot weather conditions pushing fish to the bottom and making it hard to get bites, fishing slow is key. Bay 13 and Queen street were the go too areas, again plastics and spoons were the pick of lures, The trolling anglers had good success, the smak hard body range is hard to beat for this technique.

Boondooma Dam

Easily the pic of our SEQ impoundments at the present time, big numbers have been caught and still continues to fish well, the bite has been quite spread out throughout the lakes, the edges have fished well on on the low light hours of the day, once the day heats up, Spoons and Blades being the go too lures for the schooled fish.


Leslie Dam
Slow fishing over the last few weeks and no improvement as of yet. Picking your times and being patient while times are tough, the bait anglers having a majority of the success, Saltwater Yabbies and Worms proved to be the best of the baits.

Lake Monduran

Lead up to the full moon this coming weekend we have seen some exceptional fishing, the southern end of the lake has fished well with the hot northerly winds that has been around, targeting the tops of trees with the ever faithful Jackall Squirrel 79 has been the undoing of some big fish, while this has worked wonders throughout the day, for the night sessions pushing into shallower bays and points has proved to be just as successful, This is where the Molix 140 Shad and Zerek Live Mullet shine, the amount of fish these two baits have produced is mind blowing! These lures are a must for any Barra impoundment.


Toowoomba Region - 7 Day Forecast