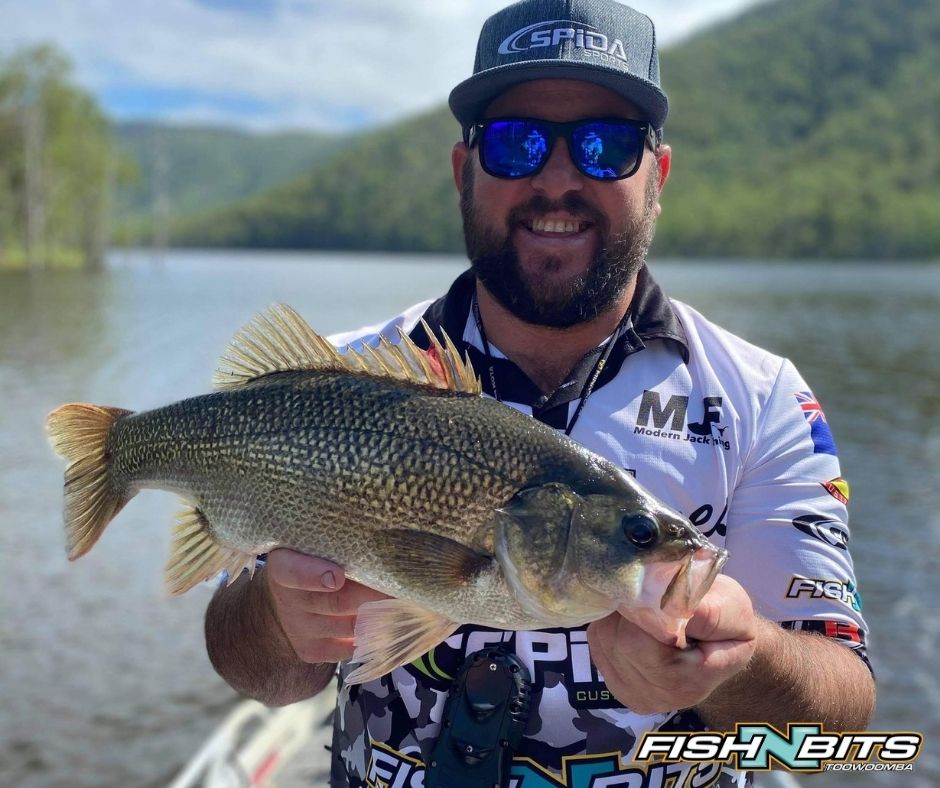 Fishing Report 19th November 2020
Photo: Jye Gilmore with a solid Bass
Lure of the week


Jackall Sleek Mikey 115
The body design has a flat surface reminiscent of tall, flat small fish such as Oikawa, and attracts black bass in open water such as the outside of a group of trees with a speed trick that can not be cut off by dead slow ~ fast retrieve. The range of strategies can be expanded by using it properly with KAWASHI MIKEY and SLEEP MIKEY, depending on the color of water, the presence of obstacles, and the position of the black bass..Find them here: Jack Seek Mikey 115

Cooby Dam
Enterococci levels at Lake Cooby exceed the Recreational Water Guidelines and as such the dam is now closed until further notice. Dam Status can be found HERE

Cressbrook Dam
Good reports still coming through of good fish caught of a morning out from the boat ramp Spoons have again been the standout lures, Hot Bite Gang Bangers have accounted for their fair share of fish. The trolling anglers have had good success working the bouy line, fish up to 47cm have been caught. Lures like the Smak Hardbody range and Ringtails have been the best option.

Somerset Dam
Defintely alot harder this past week after the recent rain, the fish have moved tight to the bottom and have been a little tight lipped, the trolling anglers getting most of the attention, keeping your light tight to the bottom is key. Others have have had success fishing Soft plastics like the slider grubs, and also Soft Jackalls and Spoons. Bay 13 is holding good numbers of fish and are willing to eat when the time is right.

Lake Monduran / Lake Awoonga
Unbelievable reports coming in from our closest Barramundi lakes, with consistent weather patterns its realy fired these fish up, there has been alot of boat traffic at the moment so finding points and bays thats not heavily fished has been key, Lake monduran has fished well at the southern end of the dam, bird bay is holding good numbers of fish, once locating these fish lures like the Zerek live Mullet and Molix 140 Shad has accounted for some amazing catches. Lake Awoonga is heating up with some good reports of good numbers of fish, the Zerek live mullet and Jackall squirrel 79 has by far been the most consistent catcher, working these lures on shallow Points has been very successful.
Leslie Dam
Unfortunetely not alot has changed on our local yellow belly and cod lake, still being hard to tempt for the lure anglers. Saltwater Yabbies and worms are both having the most success..

Callide Dam 

A little untouched fishery that's just getting better and better, huge fish up too 125cm have been caught in the recent week, The main basin is holding endless amounts of fish, just finding that bite time is the key to success and that can be beyond Midnight depending on the moon phase. A wide variety of lures have worked wonders, The Barambah Live Mullet and Boney Shad have proved their worth.


Toowoomba Region - 7 Day Forecast