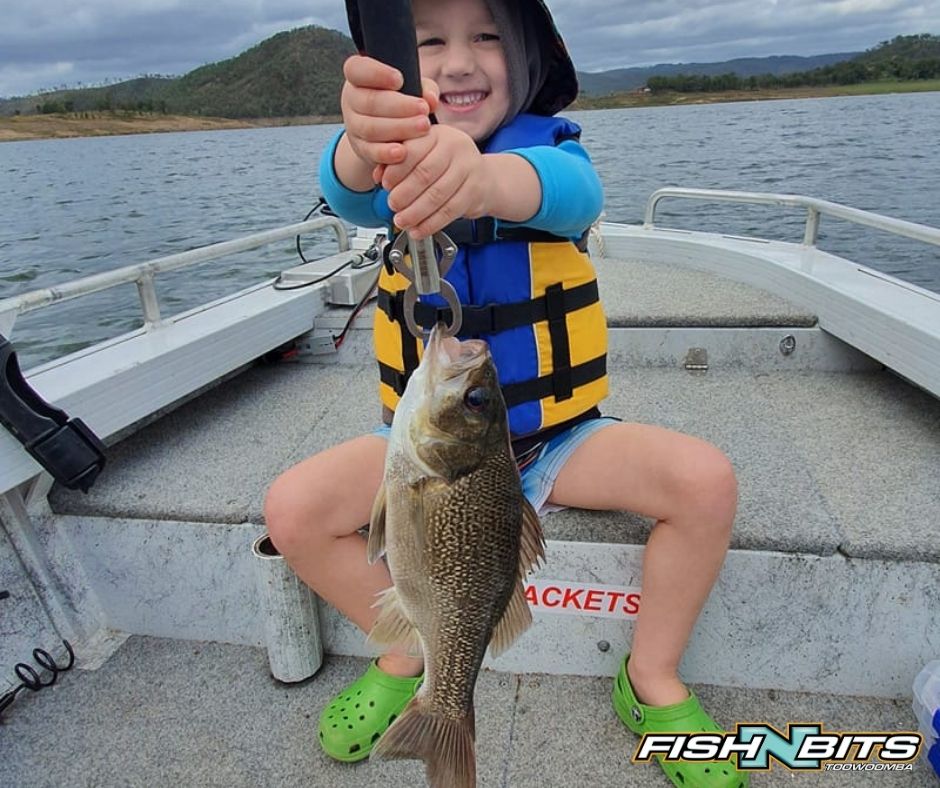 Fishing Report 12th November 2020
Photo: Levi Turner (4.5yo) with his first fish caught at Cressbrook on Sunday
Measuring 41cm, caught on a slider grub soft plastic - Couldn't wipe the smile of his face!
Lure of the week


Hot Bite Cod Spinnerbaits and Chatterbaits
Perfect for catching  Murray Cod, these limited run lures won't last long.
Find them here: Hot Bite Cod Spinnerbaits & Hot Bite Cod Chatterbaits

Cooby Dam
Sadly Cooby Dam was closed to all activities by the council last week. We will keep you posted as we are given more details.

From TRC website: Cooby Dam remains closed for all boating, fishing and picnic activities. Each week water is tested to ensure it meets safety standards for recreational activity (direct contact without water treatment). Enterococci toxins are currently at 150 CFU per 100mL and this needs to be under 35 CFU per 100mL. We are hopeful this will improve and allow for re-opening in the coming weeks.
Cressbrook Dam
More great results this past week, the early morning proving to be the pick of the times. Right out from the ramp is holding good numbers of fish, as well as a few points in the main basin. These fish have reacted well too Spoons like the Hot Bite Raptors and heavily weighted plastics. The 3-inch slider grub has accounted for multiple big fish. A few yellowbelly also getting caught on zx40s and trolling.
Somerset Dam
Somerset has really started to heat up this last week and should continue this trend with more warmer weather forecast. It has started to produce some amazing fish with good numbers. The fish have been quite spread out through the entire lake, the Spit and Bay 13 still being the go too areas spots with plenty of fish schooled up. Spoons and sliders have been the go to lures for schooled up fish, while trolling to locate the fish has been a useful strategy.


Boondooma Dam

By far the pick of the dams this past week with big numbers of fish being landed. Bass on spinnerbaits, blades and vibes on the edges in the low light periods as well as goldens getting caught on the edges of the old creek bed near the timber. Throughout the day there have been a few schools around, Pelican Points and Junction is holding good numbers of fish. Success has been had on blades, heavily weighted soft plastics and spoons on the schooled fish.


Leslie Dam
Leslie dam has been reasonably quiet for the yellowbelly, with only the odd one being caught on Saltwater Yabbies. The cod have been a bit more consistent with a few bigger fish being landed on big spinnerbaits and chatterbaits like this weeks lure of the week, the Hotbite Spinnerbaits and Chatterbaits.

Coolmunda Dam

Coolmunda Dam has started producing a few cod and yellas over the last week after being relatively quiet for a long period of time. This will be a dam to watch over the next few weeks to see if it continues to hot up. There have been a few big cod landed up to 105cm trolling hardbodies and spinnerbaits through the old creek bed. The Saltwater Yabbies have been getting it done for the bait fishos, especially for the yellas.


Monduran Dam
This lake just gets better week by week, the weekend seen some great fish caught leading up to the full moon, a couple over the magic meter even caught. The ever faithful Jackall's 79 Squirrel and smash minnow accounting for a lot of fish, the Zerek live mullet also proving its worth. Targeting the tops of trees with these lures has been successful. This lake is one of the biggest in Australia and at the moment you don't need to go far to find those fish. Bird Bay one of the most southern Bays is holding plenty of fish.


Toowoomba Region - 7 Day Forecast