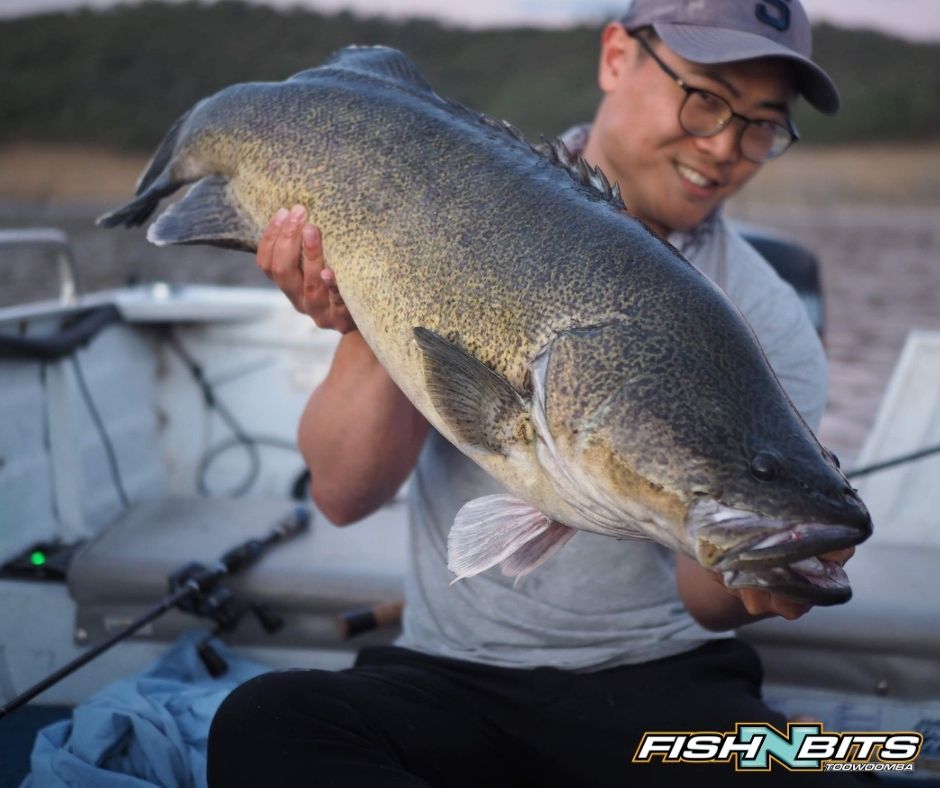 Fishing Report 5th November 2020
Photo: Malcolm Lang with a solid Glenlyon Cod
Lure of The Week - 

Barambah Bony Shad
The Barambah Bony Shad is a super life-like shad swimbait with a built-in interchangeable weight system that allows it to be fished from as shallow as 1 foot down to 30+ feet applications. It has two internal weight chambers built-in to house lead or plastic blocks. Allowing you to dial the bait into depths you want to fish it, without ugly chin weights. This is quickly done with a screwdriver (supplied). Swim action is further enhanced by aluminium stabilising pectoral fins and a head mounted tow point, allowing the bait to track deep. The Bony Shad will suit a wide variety of fresh and saltwater applications. Find them here: Barambah Bony Shad


Region Fishing

Cooby Dam
Cooby fished well this week after the recent rain and some better conditions. With the temperature starting to rise, the yellow belly are getting more and more active. The lure fisherman having some great success, casting or jigging zx blades tight to the weed beds have accounted for plenty of fish. Also trolling shallow diving hardbodies in these same areas has been successful. Saltwater Yabbies and Worms picking up some good fish for the bait anglers. The late afternoon bite always proving to be the most consistent
Cressbrook Dam
More great results this past week, the early morning proving to be the pick of the times. Right out from the ramp is holding good numbers of fish, these fish have reacted well too Spoons like the Hot Bite Raptors and heavily weighted plastics. The 3 inch slider grub has accounted for multiple big fish.
Somerset Dam

Somerset has seen some big rain over the last few weeks, but it hasn't changed the bite and still continues to produce some amazing fish with good numbers. The fish have been quite spread out through the entire lake, the Spit and Bay 13 still being the go too areas spots with plenty of fish schooled up. Spoons and sliders being the confidence lures again.
Boondooma Dam

By far the best fishery at the moment and has been for quite some time, with huge amounts of fish being caught. There has been a great edge and deep bite these past weeks, the narrow stretch of the lake have fished well. Casting Spinnerbaits and TN60's to the deeper rockier edges has been successful of a morning, also trolling these same areas has worked extremely well. Keeping your lure tight to the edge for as long as possible has been key. For the schooled fish, Pelican Points and Junction is holding good numbers of fish, metal blades and Gulp Minnow Grubs have been the go too.


Leslie Dam
Slowly but surely the fishing begins to get better and better each week, good cod caught this week of an afternoon, trolling swimbaits like Jackall Gigantarel picked up 2 nice fish up too 108cm. For the Yellow Belly fisherman saltwater yabbies still being the consistent catcher.

Lake Monduran
This lake just gets better week by week, the weekend seen some great fish caught leading up to the full moon, a couple over the magic meter even caught. The ever faithful Jackall's 79 Squirrel and smash minnow accounting for a lot of fish, the Zerek live mullet also proving its worth. Targeting the tops of trees with these lures has been successful. This lake is one of the biggest in Australia and at the moment you don't need to go far to find those fish. Bird Bay one of the most southern Bays is holding plenty of fish.


Toowoomba Region - 7 Day Forecast