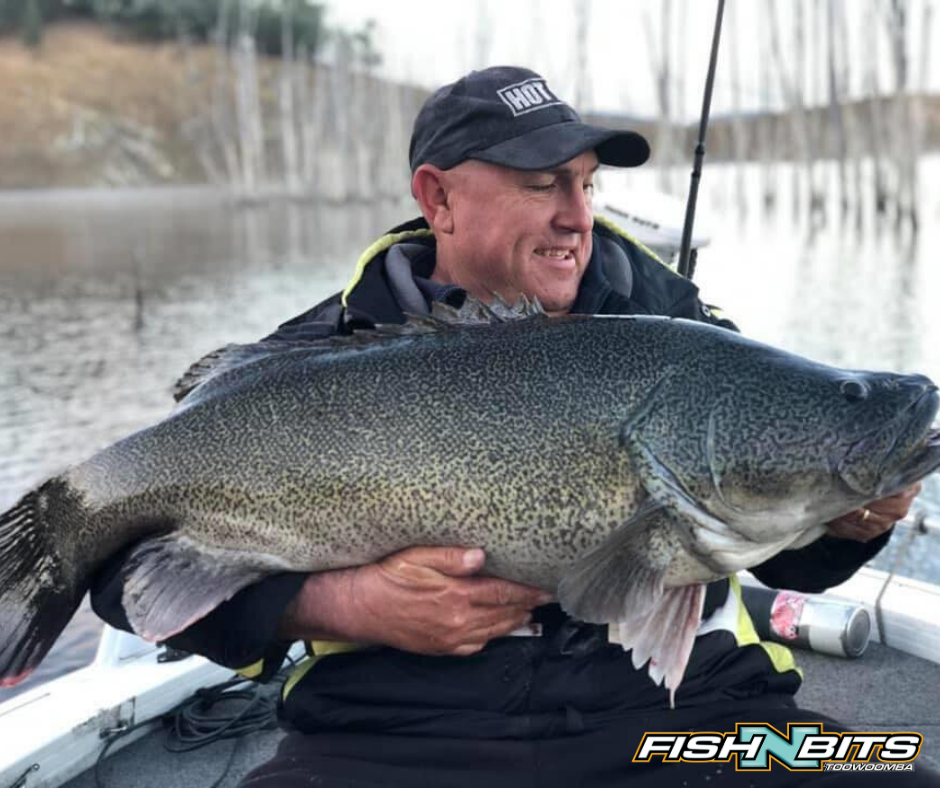 Fishing Report 10th July 2020
Photo: Adam Krautz with an awsome fish from Glenlyon
Lure of the week


Ecogear ZX43 
The Zx40's big brother has just landed, these shrimp style blades weighing in at 8.8gram and 43mm are going to be ideal for this winter when those fish are tight to the bottom and are being hard to tempt. The ZX range is not limited to size or particular fishing environment and is capable of targeting almost any light game species. A proven fish catcher the ZX represents the ultimate peak in blade style lures. These Blades are all fitted with a radical new unique hook design. Based on a "assist hook" design, specially selected sized hooks are attached with offset hook lengths. The combination of lure and assist hook design provides snag free fishing and consistent solid hook ups even on short bites.Find them here: ECOGEAR - ZX43 8.8G


Cooby Dam
Still closed
Cressbrook Dam
Very little reports this past week with not the greatest weather, the fish that were caught were mainly caught on the shallower edges in the Cressbrook creek arm, suspending hardbodies being the go to lures like the Jackall Squirrel in either size the 67 or 79. The deeper fish are still in numbers just very short bite windows which makes it difficult, the bite window has been in the middle of the day.
Somerset Dam

Tough fishing on the lake these past few weeks hopefully after the rain settles we should see some amazing fishing to be had, the top of Queen street and the flats out from Kirkleigh have good numbers of fish, they have been very tight lipped for the casting anglers, the fish that are getting caught have been mainly taken on trolled Hardbodies, the Smak Hardbody range are perfect for this technique.
.
Boondooma Dam

By far the pick of our local lakes, still no camping allowed but for the anglers willing to travel it has paid off, very good fishing at the moment with the bass schooled up in big numbers off the large lake points. Soft plastics like the slider grubs have accounted for a lot of numbers over the past few weeks, with spoons and ice jigs also getting the bites. Leeza Gangs ledge, The Junction and Pelican Point have been the go too areas.
Leslie Dam
The Yellow belly have been well and truly on the bite over the school holiday period with a lot of anglers catching good numbers of fish, the bait fisherman by far catching a majority of the fish, Jigging Zx Blades and soft vibes has picked up the odd fish as well.

Copeton Dam

With the borders opening this should be the lake that's on everyone's mind, the fishing hasn't been easy with a lot of boat traffic but big fish have been caught over the week. The Jackall Swimbait range is always the number 1 bait with the majority of the fish coming on these, if targeting the deeper fish, the Bassman Mumbler is another great tool for the job and has accounted for numerous bites as well.
Glenlyon Dam
Another outstanding week on the big cod fishery, the Topwater and Swimbait action has been second to none and still continues to produce quality fish. The fish have been quite spread out throughout the Lake, Find the bait you'll find the fish!
Toowoomba Region - 7 Day Forecast