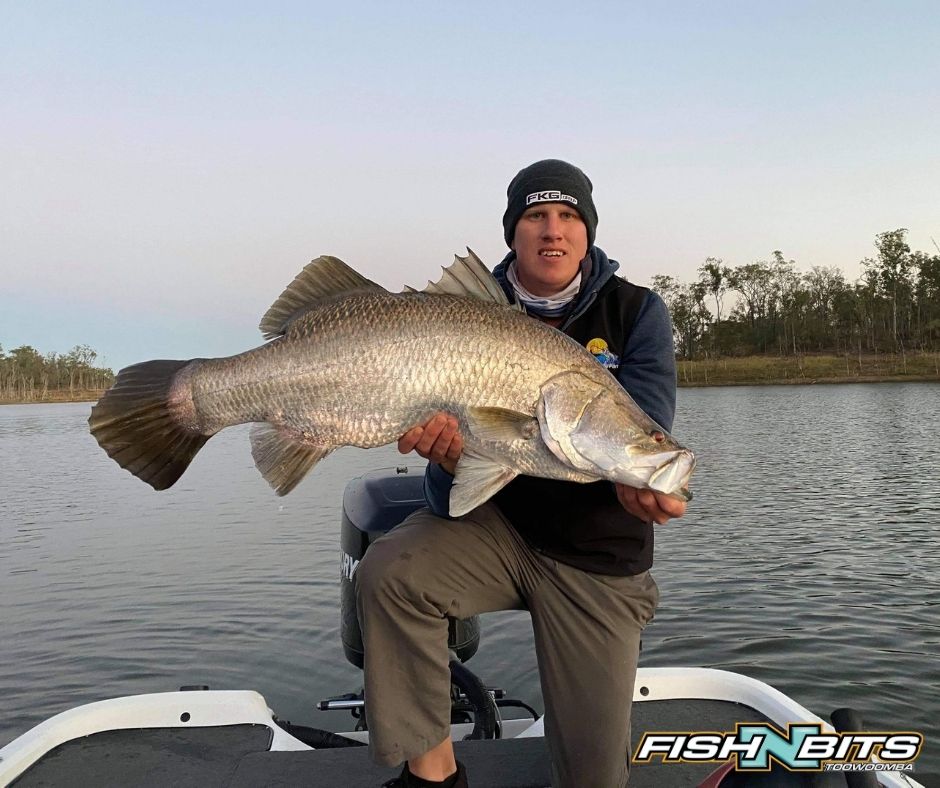 Fishing Report 1st October 2020
Photo: Nathan Nichols with a big healthy Monduran Barra
Lure of the week


The Mudeye Rattle Snake
The 200mm hand crafted timber Rattle Snake from Mudeye lures is quickly carving its way to the top of the surface lure charts with an impressive array of big cod captures to its name. With a strong clicking action it rides the water well and is all but tangle free on the cast. Once again a serious big cod lure for the serious big cod fisho.Find them here: The Mudeye Rattle Snake
Cooby Dam
Good reports still continue to come in with some good fish being caught, with this colder weather hanging around the yellow belly have been quite shallow amongst the warmer water, trolling or casting shallow Diving Hardbodies or Lipless Crankbaits have accounted for both good Yellow Belly and Cod.
Cressbrook Dam
Our Local Bass lake is fishing very well with some great fishing to be had, the morning sessions has been the highlight of the day with some very impressive cacthes, Spoons and plastics being the lure of choice, The Cressbrook Creek arm has fished well with some good fish holding on the deeper points, in the basin there has been good shows of fish sitting off the first point out from the ramp. 
Somerset Dam

Good signs last weekend with a tournament getting held on the lake, most anglers weighing in some very good fish. The fish are schooled up and have been very easy to find alot of the usual spots are filled with fish just having the time and patience for the fish to be bite has been the hard part. Red Rock, Bay 13, The Spit and the Kirkliegh flats are worth a look, Trolling can be an ideal way of getting these shut down fish to bite, the Smak hard body range is perfect for this technique.
Leslie Dam
Finally with some warmer weather we have seen the yellow belly starting to be on the move and hunting for food. The bait anglers still being the most productive with saltwater yabbies been the go too. Theres been reports and some good photos coming in this past week with some big Cod on the bite, the late afternoon being the pick of the times. Targeting these fish isn't the easiest, trolling can be a great way of covering water and locating these fish.

Lake Monduran

This past week the fishing has been red hot leading up to the full moon, with this being said this lake is never easy and can take some time in finding those active fish. with big south eastly winds the noethern part of the lake has seen the warmest water. find the bait and you'll find the fish. The ever Faithfull Jackall Squirrel has been the consistent catcher, also slow rolling plastics off the deeper trees has proved to be very successfull.
Tip Of The Week
Leader knots can be crucial for keeping line strength when trying to fish lighter lines. All knots have different breaking percentages, finding the right knot for your application is key.
Toowoomba Region - 7 Day Forecast