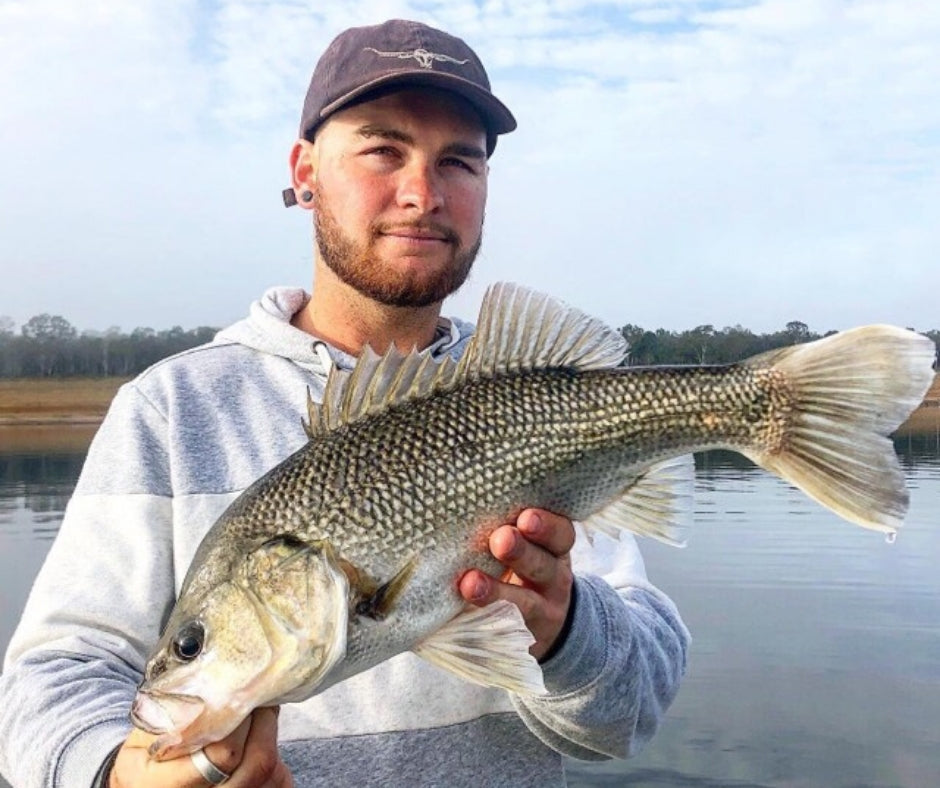 Fishing Report 20th June 2019
Photo: Jeremy Zerk with a quality Bass from Boondooma
Lure of the week
Smak Fire Blade
Smak Lures have just released there Newest lure the Fire Blade, Available in 1/4oz, 3/8oz and 1/2oz a metal blade that has a great vibration and can be fished in a variety of ways, from edges to deeper schools to Vertical or on the cast, These have been accountable of the giant fish somerset has produced over the last few weeks.


Cooby and Cressbrook
Remains shut due to poor water quality.
Leslie Dam
Big numbers of yellow belly were being caught over the long weekend just not the size anglers had in mind, Multiple fish around 30 cm were caught, Zx40's and Soft vibes jigged vertically on the edge of the creek bed was the go to technique. Saltwater yabbies and worms were the bait of choice for other anglers.

Somerset Dam
A lot of anglers hitting the lake over the past week and most having some great success, Jigging blades and ice jigs have been claiming the majority of the fish. Queen Street and Kirkliegh Flats being the go to areas, Working the edge of the creek bed with these lures will be your best bet.

Bjelkie Peterson Dam
Quite a reasonable response from local anglers this week, Quantity over quality this past week, casting small metal blades and Tailspinners have been picking up a lot of the smaller fish, the trolling anglers are having good success, covering ground with a Jackall tn60 has been working well.

Moogerah Dam
Some great results over the last week, starting too move into deeper water, the spit is still holding large amounts of fish, this week the fish have suspended into 35 foot and soft plastics and spoons have been working a treat. Also worth a look inside the timber line, Trolling Tn60's have caught some great Yellow Belly.

Copeton Dam
The first frost has definitely fired up the cod over the last week, there has been a spike in fish catches over the weekend, Swimbaits like the Jackall Gantarel and Gigantarel still being the lure of choice, while targeting the deeper fish Jackall Tn80's and Doozer have caught their fair share as well.

Gold Coast Offshore and Broadwater
Its that time of year when the snapper show up in large numbers, the closer reefs like the 18-24 fathom reefs are always worth a look, Wider off these reefs there has been some great Spanish Mackerel hanging off these areas, Live Bait will be your best chance. For the Broadwater side of things there is some great squire on offer just east side of Wave Break Island. Targeting these fish with lures like the Cranka Crab have accounted for some great sessions.