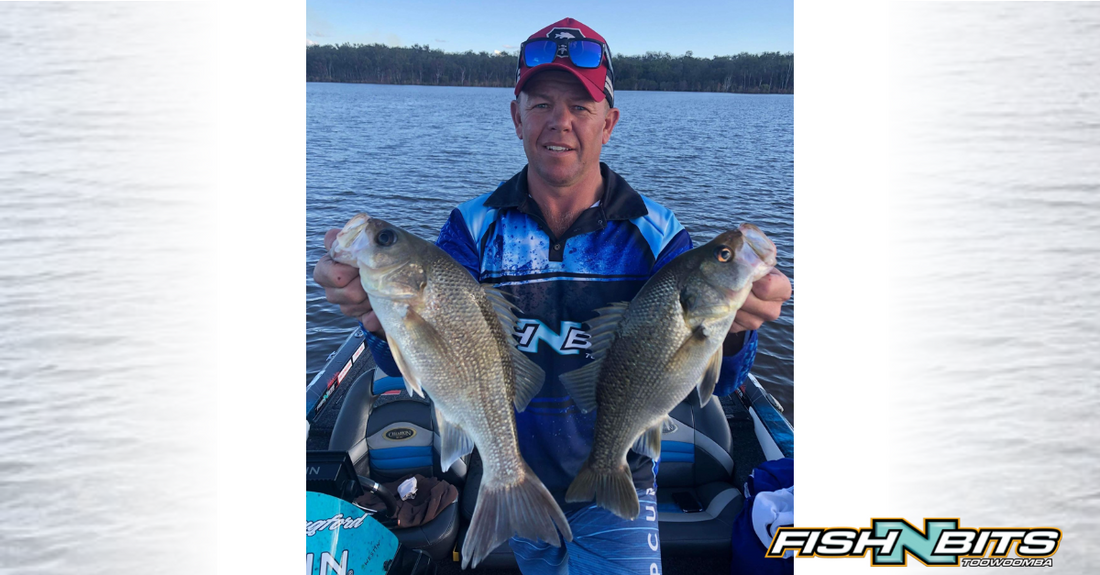 Fishing Report 24th June 2022
Photo: Michael Challenor with two quality Bass from Boondooma .
Share us your catch HERE
Product Of The Week -

Shimano Tranx 150




Designed with anglers in mind, the Shimano Tranx 150 Casting Reel expands the Tranx family of low-profile casting reels with a versatile offering perfect for lighter inshore presentations. A saltwater workhorse built to resist flexing during tough battles, Shimano's Hagane Body enhances overall smoothness by housing the internal components within a rigid metal frame. The smallest offering in the Tranx lineup, the 150-size delivers the palmability of its freshwater counterparts but offers increased durability for saltwater environments.

Ensuring water beads up and rolls off the reel to reduce water intrusion, CoreProtect technology uses a protective coating applied to critical areas to deliver added durability for chasing inshore gamefish. A compact casting reel with an inherent desire to be a glutton for punishment, the Tranx 150 boasts enhanced stopping power by utilizing a Cross Carbon drag material to deliver smooth and dependable drag performance. Packed with a host of Shimano's cutting-edge technologies, the Shimano Tranx 150 Casting Reel is the ideal low-profile reel for anglers who demand more from their equipment for inshore applications.
Fishing Our Region
NEW - We now have a page for Dam Levels. Check It Out!
Cooby - A successful week on our local lake with good numbers of Yellow Belly being caught, quite a few different techniques have been working. Trolling 2-4 meter Hardbodies in front of the sail club edges has been effective, while working the deeper water with Blades and Soft vibes have also worked. Casting Lipless crankbaits towards the rock wall have landed some smaller Cod.

Cressbrook - Plenty of smaller fish have schooled up in the Bull Creek arm, these fish have been caught on a variety of lures, 1/4oz Little max Blades and slider Soft Plastics getting the majority of Bites, chasing that larger fish hasn't been the easiest, casting tn60's and Suspending Hardbodies along the banks have had the best result.

Leslie - Unfortunately the colder weather has unsettled these hungry fish and it has been a little more difficult over the last few weeks. Jigging Zx blades has produced the best numbers of fish again. Covering ground and searching for those active fish is key. The shallower water is still producing the better fish. Trolling the edge of the creek bed has been the best method of targeting the cod.

Maroon - By far the pic of our local bas lakes with some better quality fish caught. During the low light periods or overcast days Top water lures have been effective. Targeting the deeper weed towers with Suspending Hardbodies like the Jackall Squirrel 67 and Daiwa Double clutch have resulted in many fish caught.

Boondooma - A positive week at Boondooma. The edge fishing has been the standout. Finding weed and recently flooded structures will be your best option. The Bassman All terrain jig has proved successful as well as suspending Hardbodies. Targeting the schooling fish off pelican point and Leezagangs ledge with blades and Soft Jackalls was another good option.

Copeton - Creeping up to the new moon is your best chance at catching that trophy fish as these fish will cruise the flats and ambush bait. Topwater and swimbaits over the shallow Grassy flats is proving the best method. During the day Spinnerbaits and larger chatterbaits fished deeper up river and resulted in the odd fish.

Monduran - We are seeing some unbelievable numbers of fish caught at the present time. The smaller fish are in great condition and more than willing to eat a well presented lure. Recently flooded banks and tops of trees have been the standout. Working these areas with Jackall 79 Squirrels, Samaki Redic and Lucky craft pointers. Soft vibes like the Zerek Fish trap 95 have also worked amongst the deeper trees.

Moreton Bay - Some unbelieve snapper fishing is right at our Doorstep. The colder warmer temps after the recent Flood event have really got the bait moving and the snapper are in big numbers. The Shallow reefs around both Mclae and peel have produced good numbers of squire and Grassy's. Deeper waters around Hutchies reef is holding good numbers of Jew and snapper, for the lure fisherman small Metal jigs and 4inch soft plastics have been popular.


The Weather
Toowoomba Region - 7 Day Forecast

Due to the changing weather conditions, please check
www.weather.com.au
 for more up to date information.

BIG CATCH Jackpot Promotion
Are you our lucky winner? Each week one luck customer will be drawn at random to win the Jackpot which starts at $25.
Week 9 winner Raylene Jones took out the Jackpot at $225. Congratulations Raylene Jones! 

For each week that the jackpot is not claimed the prize will increase by $25. Jackpot resets to $25 once claimed.
CURRENT JACKPOT $300