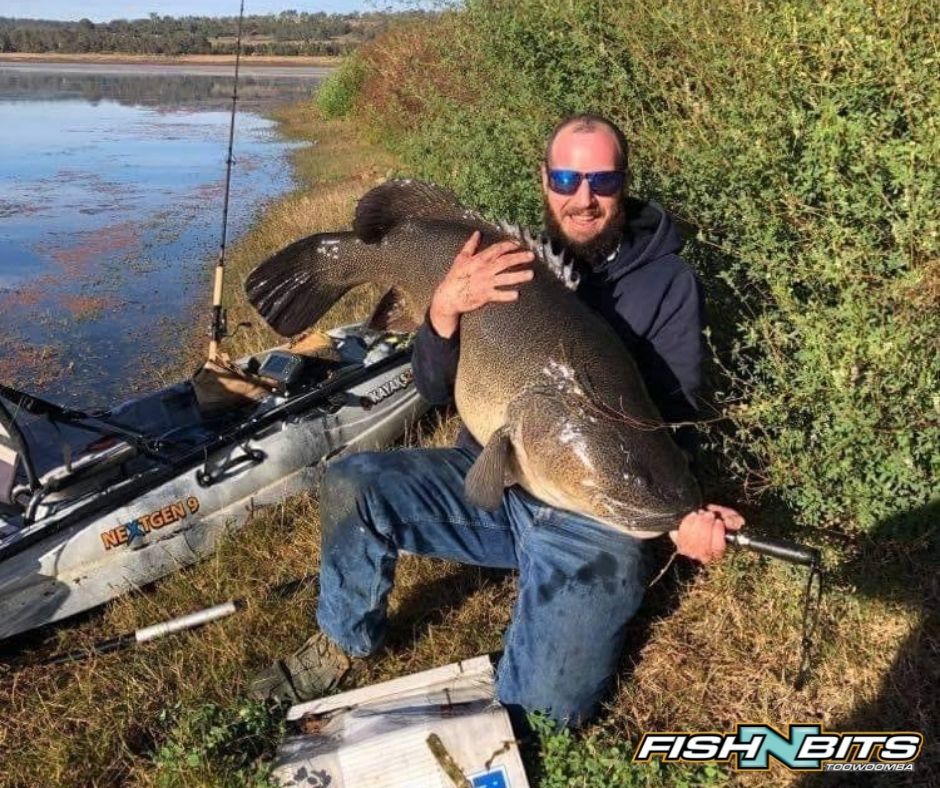 Fishing Report 3rd June 2021
Photo: Lachlan Janke with a Monster Cooby Dam Murray Cod caught on a Bassman Spinnerbait
Lure Of The Week - Top Attack Crusian Carp
200mm in length, approx. 195gr in weight, swivelling hook hangers and toe point, detailed body with grooved scales (not just a paintjob) includes BKK Raptor Z hooks and Owner split rings (no need for any upgrades), chin weight loop, three highly detailed colours for choice which replicate colours found in different waterways.These swimbaits mimic life like swimming action.
Fishing Our Region
Dam levels for this week. Please note while the levels are current at time of the report, levels will still be rising and falling depending on weather activity & these percentages will change on a daily basis:
Cooby - OPEN - Level not available
Cressbrook Dam - 37.00%
Maroon Dam - 99.70%
Moogerah Dam - 42.30%
Somerset Dam - 73.10%
Wivenhoe Dam - 41.70%
Leslie Dam - 28.72%
Coolmunda Dam - 100.31%
Glenlyon Dam - 54.01%
Copeton Dam - 42.00%
Cooby Dam - Some more amazing results this past week on our local lake, the cod just get bigger! A 119cm caught this week was caught and a lot of smaller fish around 50cm. Spinnerbaits and larger chatterbaits catching these fish, for the yellow belly fisherman the action has been a little slow. Targeting the shallower warmer weeded areas has been the best option, either casting or trolling has gotten the bites.
Cressbrook Dam - Another great week of weather and the fishing has been consistently good. Great numbers of fish caught this week, the Cressbrook creek arm is holding good amounts of big fish on the larger points, Plastics and spoons having the most success while smaller blades have caught the attention of a lot of smaller fish. Still some great edge fishing of an early morning, Jackall Squirrels and Daiwa Double clutch has been the go too for this method.
Leslie Dam
- Good signs of activity of an early morning, the cod have been moving quite shallow, smaller Swimbaits and Chatterbaits have gotten the majority of the bites. As the temperature drops don't be shy to throw surface if there's no wind. The yellow belly anglers having better success of an afternoon, Saltwater yabbies and live worms being the go too. Trolling the edge of the creek bed with hardbodies like the Kezza Mud mouse has picked up some of the better fish.
Maroon Dam - This lake can fish exceptional over the winter months and is doing just that right now, fishing the broken weed with shallow Jerkbaits has been the best technique, The Daiwa Double clutch is great bait for this application. Trolling anglers have had good success working the outer weed edge with Tn60's and a deeper hardbody, both Yellow Belly and Bass.


Glenlyon Dam - Hearing some positive information as the water is slowly clearing, hopefully before winter ends we see this lake fish as well as last year if not better. Good sign of yellow belly being caught amongst the timber, saltwater yabbies and worms being the go too.


Copeton Dam - The best time of year is upon us right now, big fish on the move. Looking for bait is key when searching for big Murray Cod in these impoundments. Shallow Swimbaits like Jackall Gigantarel and Gantarel has been the pick of the baits. There is a great chance for a top water bite this time of year and already seeing good signs of this. Looking for the clear water is ideal for this subtle swimbait bite.


The Weather
Toowoomba Region - 7 Day Forecast