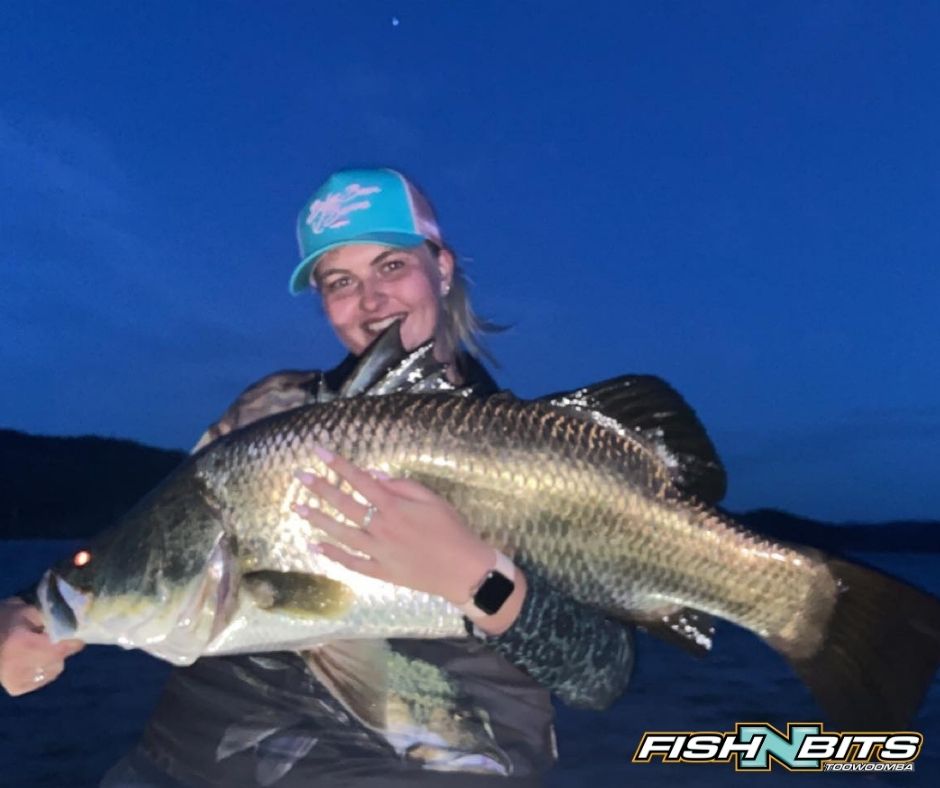 Fishing Report 7th January 2021
Photo: Beth Gibson with a cracker, caught at Lake Awoonga

Lure of the week


Barambah Lures Baby Perch 16ft+
The Barambah Baby Perch is a cool and unique 3" jointed crankbait, with life-like body styling, enhanced by PVC soft fins. The Baby Perch will dive to 16+ feet – with a medium action. It is fitted with innovative, aluminium pectoral fins to reduce body roll and improve its natural swim action. The Baby Perch emits both a joint knocking noise and sonic rattle to attract predatory species. With natural styling, precision build quality, BKK hardware and innovation in design, the Baby Perch not only has the looks, but the performance to back it up.

The Barambah Baby Perch 16ft+ is the perfect big bass trolling lure, being the only one of its kind, a bibbed jointed swimbait designed specifically for trolling deep and it has been producing great fish at all the big bass dams recently.
Find them here: Barambah Lures Baby Perch
Cooby Dam
Cooby dam has fished reasonably well this week, with reports of yellowbelly being caught along the weed edges to the left of the boat ramp and along the rock wall faces. The pick of the lures have been ZX40 Blades and Jackall TN60's, while for the bait anglers saltwater yabbies have been the pick of the baits. The odd cod has also been caught as by-catch while targeting yellowbelly.

Cressbrook Dam
Cressbrook Dam is currently closed to all recreational activities.

Somerset Dam
Somerset has been fishing very well over the past week, with many good sessions being had on the bass, which are heavily schooled in many areas. The main areas like Pelican Point, Red Rock and Queen Street have proved to be the most productive, with most fish on the cast being caught on spoons such as the Hotbite Gangbanger G2 Spoon and chatterbaits such as the Hotbite Spectre Jig. Trolling has been by far the most productive method when targeting these large schools of fish, with the standout lure being the Barambah Baby Perch, with its deep diving capabilities it is able to get down in the fishes faces and many great sessions have been had with some reports of 40 plus fish caught on them in a session. Amongst the bass a few big yellas have been landed on similar lures. For the bait angler, saltwater yabbies and worms have been the go to baits.

Leslie Dam
The yellowbelly fishing has slowly started picking up at Leslie this past week, with a few reports of fish landed on saltwater yabbies. For the lure fishers, things have been tough going on the yellas. The cod however have provided hope, with a few big fish being landed up to 125cm, on a range of lures from surface lures to spinnerbaits and smaller swimbaits like the Barambah Bony Shads and Jackall Chibitarels.

Lake Boondooma
Boondooma continues to fish well, the fish are very spread out throughout the lake and there's been a great edge bite to add with the amazing fishing this dam has to offer, fishing the deeper rock walls with Jackall tn60s, Spinnerbaits and Skirted jigs is an awesome way to catch fish, the larger fish have all been caught with these baits. The deeper Flats on the junction and Pelican point is always worth a look, Blades, plastics and Spoons have been getting a lot of the fish.

Lake Awoonga
Awoonga has been fishing reasonably well, with many reports of good fish being landed in the 90s, mostly on swimbaits and larger soft plastics such as the Barambah Bony shads, Molix 140s. The new 115 Jackall Super Squirrel has also proven to be a great lure, with a bigger profile than the 79Hank Tuned Squirrel seeming to trigger the bigger fish to eat. Targeting the wind-blown weedy points or deeper bays is your best bet.
Toowoomba Region - 7 Day Forecast