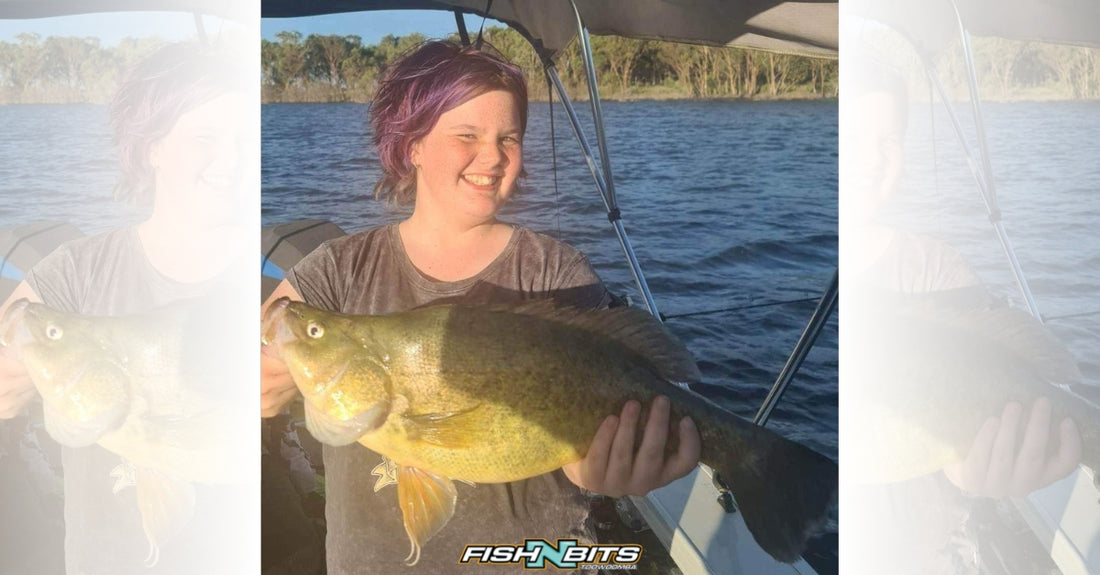 Fishing Report 10th February 2023
Photo: Layla Loxley with a massive 53cm Yellow Belly at Leslie Dam, ZX Blade does it again! 
Share us your catch HERE
Product Of The Week - Nomad SQUIDTREX
The Squidtrex Uses Patent Pending technology to combine a soft vibration lure into squid shaped body to produce a unique action designed to trigger bites. It can be jigged vertically cast or even trolled.

The soft TPE construction allows strength and durability matched with realistic movement of tentacles which waft and wiggle in the water to entice bites when sinking or even at rest. the heavy duty through wire construction and heavy gauge hooks allow you to fish this lure confidently for big fish. The additional eyelet on the belly allows for additional hook placement as required.

The weight placement allows the Squidtrex to be trolled with a crazy vibrating wobble at medium to high speeds. It can also be cast at structure or feeding fish and worked back subsurface on a straight or stop start retrieve.

Available in 4 sizes

95mm/32g  -  110mm/52g  -  130mm/92g  -  150mm/128g


Fishing Our Region
Cooby Dam - We are seeing some great consistent fishing from our local lake at the present time. The Yellow Belly have been in good numbers around the lake mainly around the deeper lake edges. Trolling has been successful and starting to get better numbers compared to be previous weeks. Deep hardbody's like the Kezza Meadow Mouse and Cooby Cobba Mighty mite has been effective, working these lures tight to the structure has been key, the old faithful ZX has still been the go to in the same areas aswell as Saltwater Yabbies and Live Worms.

Cressbrook - The Yellow Belly have been the target species over the past few weeks and it continues with some good catches. Working larger points in both arms aswell as rock walls and newly formed weeded banks, jigging blades and soft vibes have worked the best. Heading out it's worth putting the Pots in as their has been Great catches of Red Claw have reported once again.

Somerset - Still being quite productive with some good quality bass being caught, Pelican Point has been the main area aswell the Kirkliegh flats. The Hot Bite Spectre remains the lures of choice for the majority of anglers aswell as a wide variety of spoons.

Leslie Dam - Leslie continues to produce massive numbers of fish, the fish have been holding tight to the bottom against submerged structure not far off the edges. Using your sounder Locating secluded rock piles or any submerged structure has worked well for a lot of anglers finding those larger fish. Jigging blades and soft vibes have again been the stand out lure.

Boondooma - This weekend the Family Yellow Belly comp is on and great timing with the fish being on the bite. The timbered arms of the lake has been popular with fisherman jigging blades tight to structure, other reports of fish starting to school up amongst the usual haunts like Leesagangs Ledge, Barbers Pole and Pelican Point. The edge fishing is worth a try during the cooler times of the day, Lipless Crankbaits, spinnerbaits and chatterbaits being successful.

Lake Awoonga - It's been a few weeks since this lake has been even worth a mention but it's definitely turning around. The Top Water bite has been very good during the day targeting those submerged weed flats. Burning weedless frogs has been the standout with some anglers getting double digit eats in the same sessions landing these fish has been another story. The afternoon and night bite has been better than previous weeks, sitting outside the weed edge on wind blown points is your best bet. The ever faithful Molix 140 and Squidgie Slick rig 130 proves to be dominant yet again. 
The Weather
Toowoomba Region - 7 Day Forecast
Due to the changing weather conditions, please check
www.weather.com.au
 for more up to date information.

BIG CATCH Jackpot Promotion
Are you our lucky winner? Each week one luck customer will be drawn at random to win the Jackpot which starts at $25.
Week 9 winner Raylene Jones took out the Jackpot at $225. Congratulations Raylene Jones!
Week 21 winner Dave Newton took out the Jackpot at $300. Congratulations Dave!
First winner for 2023 Brett Jobling took out the Jackpot at $325. Congratulations Brett!

For each week that the jackpot is not claimed the prize will increase by $25. Jackpot resets to $25 once claimed.
CURRENT JACKPOT $25