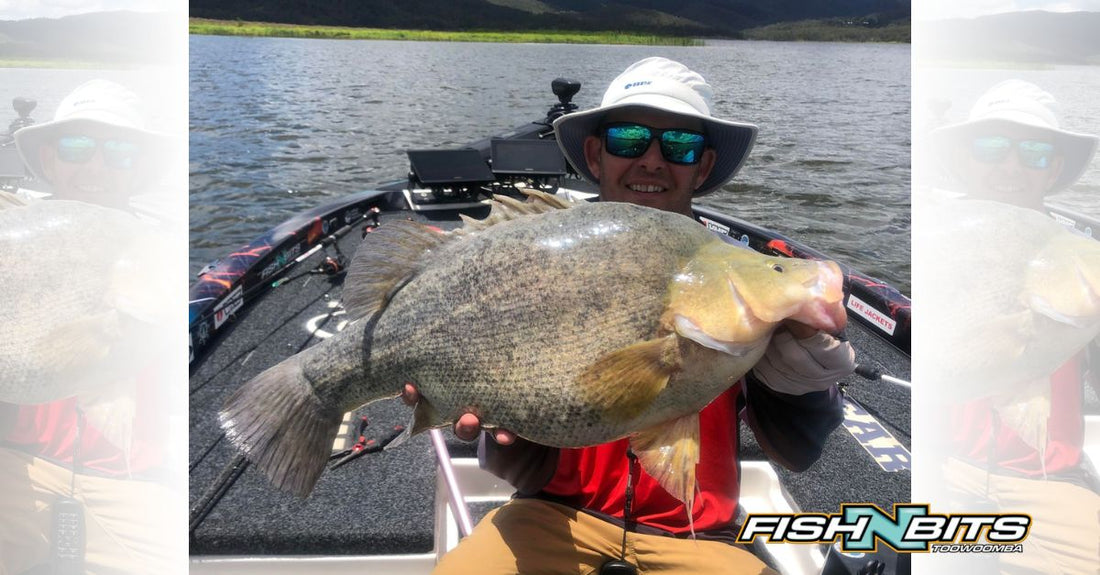 Fishing Report 11th November 2022
Photo: Matthew Langford with a Giant Somerset Yellow Belly
Share us your catch HERE
Product Of The Week - Humminbird Mega Live
See fish in real-time, in no time. MEGA Live Imaging provides the most impressive live sonar on the water, allowing you to watch fish and structure in real-time, powered by the unmatched detail of MEGA Imaging®. This U.S. Patent Pending technology provides views out, down, and around your boat with absolute clarity, and even allows you to watch fish bite your lure. This accessory transducer mounts to a trolling motor shaft or an aftermarket pole and provides three different live sonar views; Down, Forward and Landscape modes.
See fish and structure in real-time, with no gaps in sonar coverage, powered by the unmatched detail and clarity of MEGA Imaging® throughout the entire sonar view.
Fishing Our Region
Cooby Dam - This week we have had some very good consistent reports of the deeper fish really starting to come on, targeting these fish with ZX blades, Soft Jackals and the Zerek fish traps, the dark colours have been getting the majority of the bites. Good numbers of fish are schooling towards the rock wall and buoy line. For the bait anglers Saltwater yabbies and Worms being the best options.

Cressbrook - Normally our closest bass fishery but this week the Yellow Belly have been on the move and reacting well to jigged blades and soft vibes, targeting the deeper edges has been key. If you're heading out and looking at targeting the deeper suspended bass, metal blades like the Evergreen Little max have been the standout and also 20 and 30g spoons.

Leslie - Another outstanding week on Leslie with massive numbers of fish being caught, ZX Blades have yet again been dynamite on these hungry fish along with Zerek fish traps. Working these baits vertically on submerged structure has again proved dominance. The Bait anglers have also caught their fair share of fish with saltwater yabbies and Live worms working well

Somerset - The last few weeks the bite has really turned around on our big bass Lake, good schools have been located on both sides of Pelican Point and in front of red rock, Deep Crankbaits like the Rapala DT20 and IK800's have been effective, The spoon bite has also started and some great quality fish being caught on both the Palms Slow Blatts and Hot Bite gang bangers. With this weather heating up trolling has been another popular technique, the smak Golden child and Blitz baga has been popular choices.

Boondooma - Good results are starting to come through, the edge fishing has been red hot. A variety of lures have been effective, from spinnerbaits, Jerkabaits, crankbaits and blades have all had their time and place. The timbered arms of the lake have fished well for Yellow Belly, zx blades and Gulp minnow grubs working best.

Monduran - Some Consistent weather has made up for some much better fishing this week and without any more rain we are looking good for the holiday period. Good numbers of fish have worked their way down towards the basin, these deeper fish are starting to move and reacting well to a variety of lures and Techniques. The faithful Molix 140 and the new 120 has been again the standout bait along with the Zerek live Mullet and Thready Buster swimbait. As the water temp reaches its peak trolling can be your best option for locating those active fish, the Barra Classic in 10 - 15ft is a great option.

The Weather
Toowoomba Region - 7 Day Forecast

Due to the changing weather conditions, please check
www.weather.com.au
 for more up to date information.

BIG CATCH Jackpot Promotion
Are you our lucky winner? Each week one luck customer will be drawn at random to win the Jackpot which starts at $25.
Week 9 winner Raylene Jones took out the Jackpot at $225. Congratulations Raylene Jones!
Week 21 winner Dave Newton took out the Jackpot at $300. Congratulations Dave!

For each week that the jackpot is not claimed the prize will increase by $25. Jackpot resets to $25 once claimed.
CURRENT JACKPOT $25