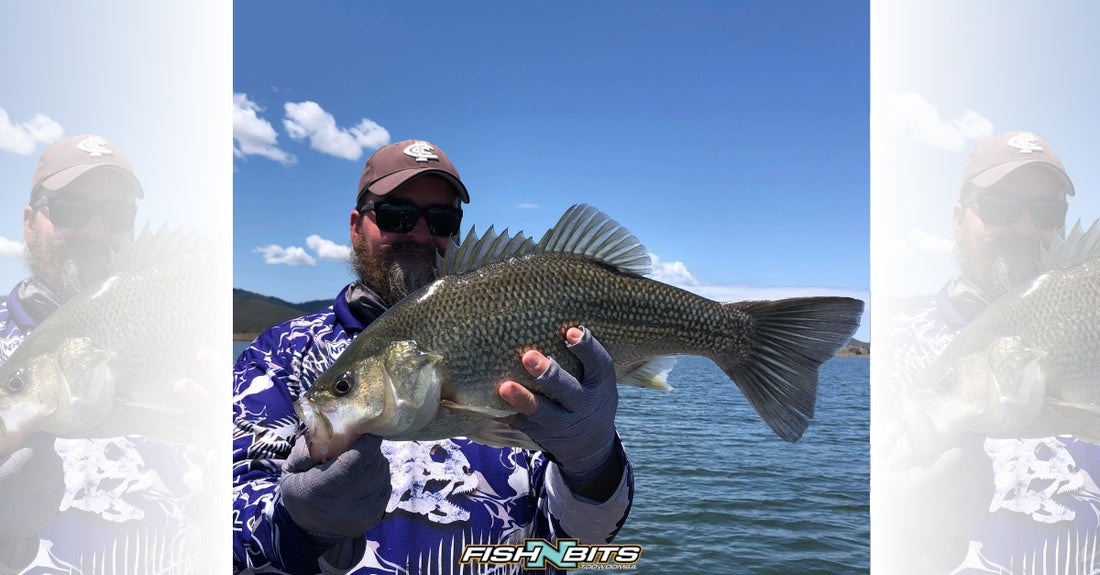 Fishing Report 13th October 2023
Photo: Lionel Woods
Share us your catch HERE
Product of The Week - TT Lures Quake Power Vibe

The result of our intense development process is a new generation of soft vibe. A unique profile features a sleek bait fish shape with a forked tail, realistic fins and shaped head section, plus oversized UV-reactive eyes that provide a solid strike target.
Inside is a stainless steel frame that delivers far more strength and stability than wire frames, with a holographic coated weight on all transparent models for added attraction. On the outside, choose from a huge selection of unique and vibrant colour schemes, many having UV-reactive finishes. Quake soft vibes come ready to rock with premium 4X strong Japanese trebles and heavy-duty split rings.
Fishing Our Region
Cooby - Nice and close Cooby is a great place for a day trip with some pretty hot fishing on offer. Although most of the catches lately have been out in the deeper water on bait and jigging blades there are still some large fish roaming around the edges if you are land based or want to just fish the banks there is still some good fish to be caught especially in the late afternoon. Jackalls and spinnerbaits always work well around the edges along with live worms for the bait fishos.

Somerset Dam - The bass are schooled up nicely at the moment and plenty of large models on offer. Fishing out from contoured points is the best place to find fish. Around the spit and Pelican Point in around 30ft. Using 20g spoons has been the best along with 5/8oz weighted plastics to keep it near the bottom.

Leslie Dam - Not a lot of change at Leslie plenty of nice yellowbelly on the edge of the creek bed In the deeper water and they always love a salt water yabby or a blade. The big cod seem to have quietened off lately.

Coolmunda Dam - Fishing is still hot at Coolmunda and it should be on the list this Spring/Summer the fish have had a couple years rest with not much happeneing and now they have fires up. Again loaded on the top edge of the creek bed in around 30ft as well as some schooling fish around the trees. Trolling deep diving hard bodies has also worked well through the creek bed.

Monduran Dam - Mondy is still the pick of the Barra dams with plenty of big Barra being landed. There is no better time then the next few weeks with the wind turning into a North easterly and blowing the warmer air in plus the full moon coming up there is sure to be some serious fishing on offer. Suspending hardbodies like the Samaki Redics and Jackall Squirrels have been super popular along with lightly weighted plastics. Pretty simply follow the wind and the warmer water and you will find the fish and an ultra slow retrieve has been key.


Tip of the Week
If your having trouble finding spots that you have heard about of finding the creek bed at lakes or knowing where the points with strong contours are come in and talk to one of the boys in store about loading maps onto your fish finder or getting it on your phone it can save you hours of wandering around and put you straight onto the fish.
The Weather
Toowoomba Region - 7 Day Forecast
Due to the changing weather conditions, please check
www.weather.com.au
 for more up to date information.

BIG CATCH Jackpot Promotion
Are you our lucky winner? Each week one luck customer will be drawn at random to win the Jackpot which starts at $25.
For each week that the jackpot is not claimed the prize will increase by $25. Jackpot resets to $25 once claimed.
CURRENT JACKPOT $150