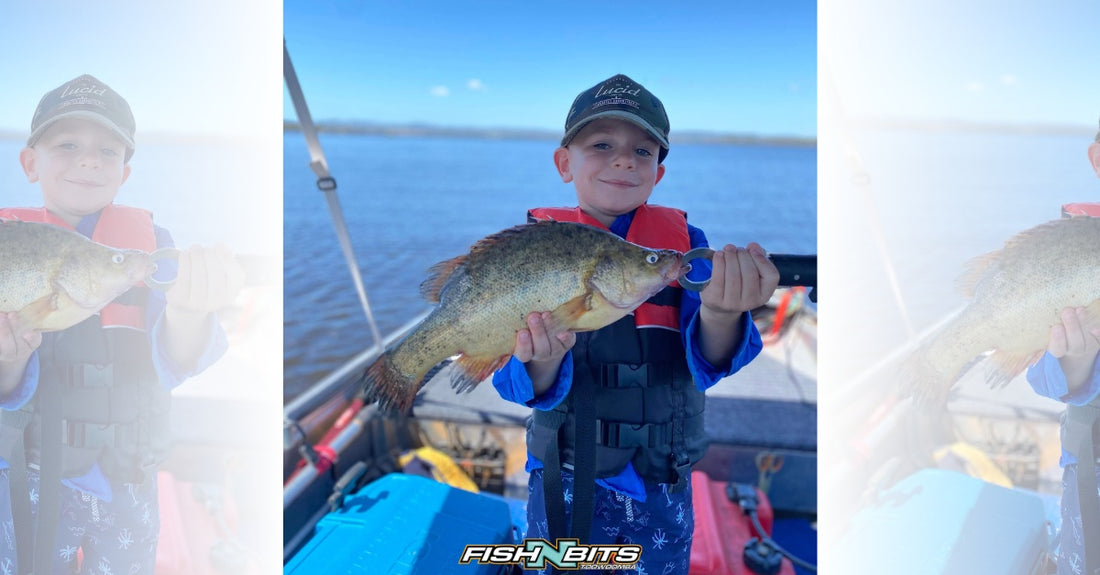 Fishing Report 14th April 2023
Photo: Finley Brown with a nice Yellow Belly at Leslie Dam 
Share us your catch HERE
Product Of The Week - Megabass Big-M
Send tremors through Murray Cod lurking in the shallows with the all-new Megabass Big-M Crankbaits. The bill's unique scoop design wrangles the water to produce rolling action and intense flashing, sparking wild chases through open water and shallow cover alike. With a low center-of-gravity design, it harnesses max-rotation rolling action to throw intense flash farther and wider, giving enticing glimpses of its exquisite flat-sided form to predators in the deep.

Casts are powered by a triple balancer system, enabling long-distance ballistic approaches in weather conditions that would otherwise overpower conventional flat-sided offerings. Furthermore, due to careful hydrodynamic consideration, the Big-M exhibits surprisingly low pulling-resistance for its size, reducing the fatigue so often associated with larger lures. This allows anglers to comfortably deploy big bait techniques to target wider areas and new classes of fish with minimal effort. Take your cranking game to new heights with the Megabass Big-M.


Fishing Our Region
Cooby - With the weather cooling down the fish have been moving up into shallow water targeting weedbeds and structure on the bottom has been key. Using Jackall TN60s, ZX43s and Soft Vibes such as Samaki Vibelicious and Zerek Fish traps have been popular. For the trolling anglers Little Rippers 18+ and RMG Poltergeists have been popular. As for the bait fishermen Saltwater Yabbies and live worms have been the go to.

Cressbrook - Cressbrook has been seeing alot more fish being caught around the Cressbrook Creek Arm. Targeting the edges has been one of the most successful ways of getting them to bite. Using suspending hardbodies such as Jackall Squirrel 67sp and 79s as well as shallow crankbaits such as the hideup 150s have been having the most success. For the trolling anglers Stumpjumpers and TB55s have been popular.

Leslie - Leslie has been seeing plenty of fish being caught over the last few weeks and it's no different this week. Finding structure on the bottom such as boulders and tress have been seeing better numbers being caught. ZX40s and Soft Vibes such as the profishent master vibe and the Zerek Fish Traps have been producing good numbers of fish. Trolling has also seen good numbers being caught using Kezza Mudmouses and Stumpjumpers. Saltwater Yabbies and Prawns have been popular for the bait anglers.

Somerset - Somerset has been seeing fish schooling up around Pelican Point and the Spit. Using Spoons such as the Hot Bite Gangbanger G2s and Nories Wasabi and Soft Plastics such the old faithful 3" Slider grubs and Keitech Fat Impact 3.3" have been getting the bites. Trolling has also been popular using RMG Poltergeists and Little Rippers 18+. 

Bjelkie Peterson - Good results again this week with some good fish catches coming in, Spinnerbaits and other reaction style baits worked towards the timber has been successful. Good schools around Bass Point have been located and caught on metal blades and 3 inch plastics. 

Copeton - With a recent rise in water level it's looking perfect for that shallow Swimbait bite and already seeing some positive results.  Hard to go past the ever faithful Jackall Gantarel or Gigantarel for working those shallow grassy Banks. Locating bait is key for finding those active fish during the low light hours of the day. Fishing during the day targeting deeper banks with chatterbaits, spinnerbaits and soft vibes. Plenty of Yellow Belly being caught amongst the timber on the deeper points. Zx blades and smaller vibes being popular. 
The Weather
Toowoomba Region - 7 Day Forecast
Due to the changing weather conditions, please check
www.weather.com.au
 for more up to date information.

BIG CATCH Jackpot Promotion
Are you our lucky winner? Each week one luck customer will be drawn at random to win the Jackpot which starts at $25.
Week 9 winner Raylene Jones took out the Jackpot at $225. Congratulations Raylene Jones!
Week 21 winner Dave Newton took out the Jackpot at $300. Congratulations Dave!
First winner for 2023 Brett Jobling took out the Jackpot at $325. Congratulations Brett!

For each week that the jackpot is not claimed the prize will increase by $25. Jackpot resets to $25 once claimed.
CURRENT JACKPOT $100