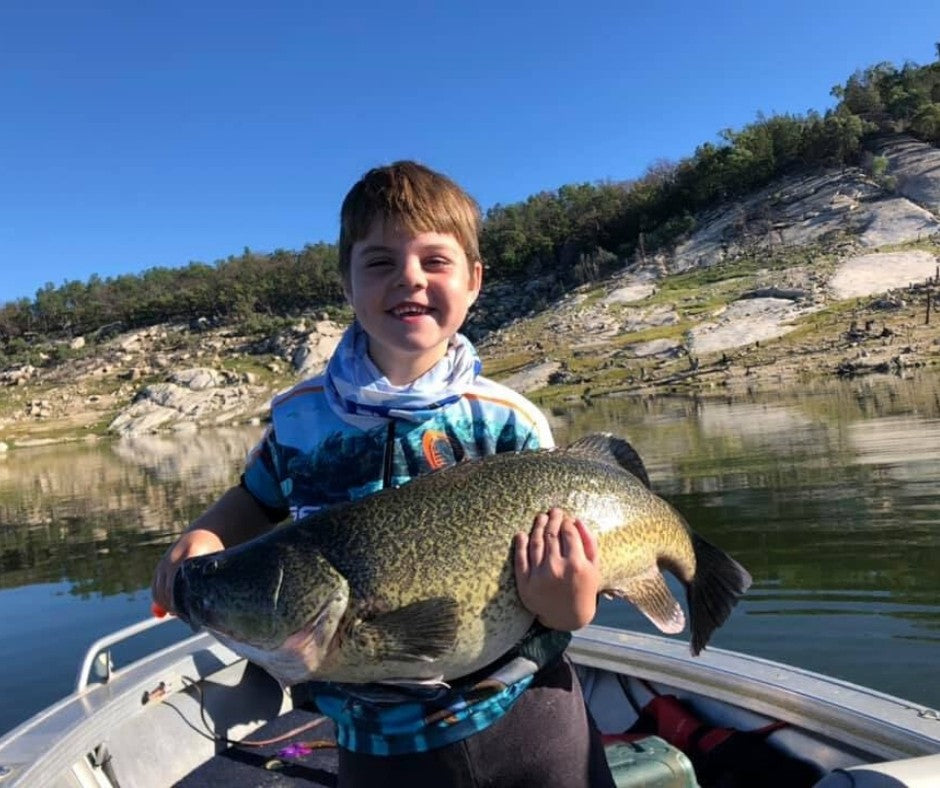 Fishing Report 19th March 2020
Photo: Chayce Pacholke with a great cod from Copeton dam Last weekend, Caught on a Jackall Swimbait.
Lure of the week


Jackall Gantia
Designed for larger predators and packed full of features the Gantia has become one of the go-to swimbaits for barramundi and Murray Cod. The combination of a slimmer profile, 4 body sections linked by heavy duty joints and large range of movement between sections allows the Gantia to move like a natural bait fish.
Find them here: 
https://www.fishnbits.com.au/products/gantia

Cooby Dam
Closed.
Cressbrook Dam
Closed. 
Somerset Dam
It's been a hard slog at Somerset during the week with some very challenging weather conditions on the lake, the anglers having the most success have use there win to their advantage, drifting the large flats and covering water has been key. The fish are moving very quickly so catching only 1 or 2 fish from the school has been quite common, Between Pelican point and Red Rock is still holding good numbers of fish, The Hot Bite Spectre has been the standout lure again.
Leslie Dam
Leslie has produced some great fish this past week, Good numbers of smaller yellow belly have been on the bite after the recent rain, with the water clearing up the lure fishing has picked up, vertical jigging Zx 
Blades and Soft Vibes like the Zerek Fish trap has been successful, targeting submerged rocks and other structure on the edge of the creek around the wash pool area has proved to be very consistent. With this cooler weather change the morning bite has been the pick of the times.


Borumba Dam
By the far the standout lake during the last few weeks, a huge rise in water level only means one thing for this lake and thats an exceptional edge bite, Jackall's Spinnerbaits or Jigs the fishing has been red hot. The shallower the better the fish have moved up into new water where it was dry the last few months. The Topwater bite has been close to its best, the Jackall SK Pop Grande and the Water Mocison has accounted for good numbers of fish in the low light periods.
Copeton Dam
It's that time of year when Copeton really comes into its own and already is fishing quite well, This week Trolling the Jackall Gantarel proved to be the standout for one of our local fisherman. Trolling these lures have accounted for a lot of fish, adding chin weight allows the lure to get to a greater depths and makes this lure very versatile even during daylight hours.  Good Yellow Belly have been caught casting Tn60's and blades in the standing timber.


Toowoomba Region - 7 Day Forecast