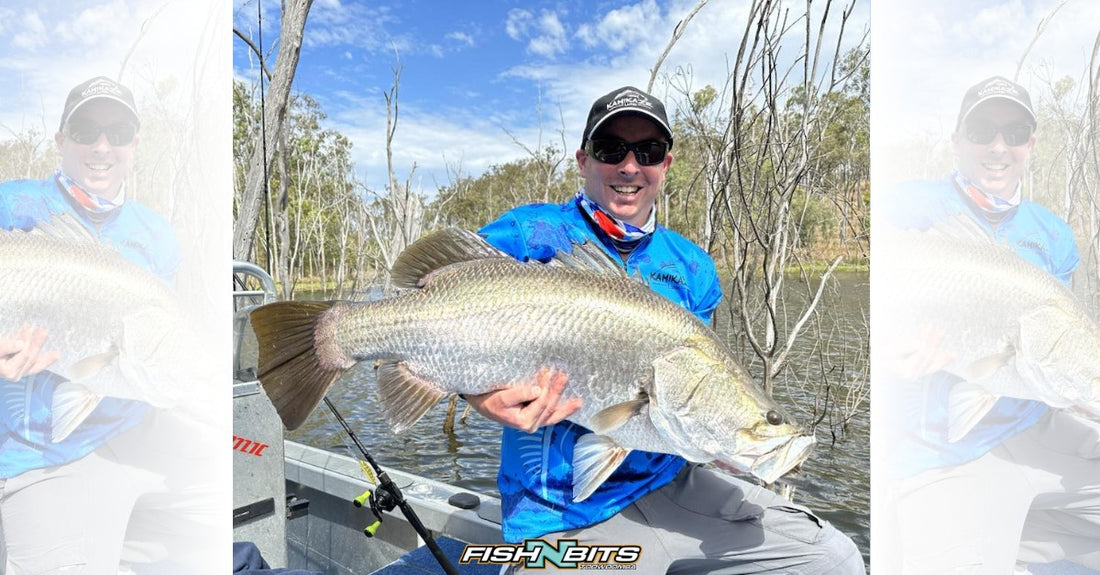 Fishing Report 25th August 2023
Photo: Ray Homes with his PB Barra from Monduran 103cm, caught on Samaki Redic
Share us your catch HERE
Product of The Week - Squidgy Slick Rig 130

The old faithful Slick rick has had a makeover! Is there a better barra lure on the market?

Introducing 7 new colours to their already great range. The incredible success of the Squidgy Slick Rig range even took us by surprise! Turns out anglers everywhere love an integrated hook-and-weight plastic that can simply be tied or clipped to the end of their line and fished? No rigging, no tweaking, no guesswork. And it turns out that fish love them even more! While nowadays an established barramundi classic (in both salt and freshwater), there's also a Slick Rig made to catch anything else that swims and eats smaller fish. Truth is, these things are almost too good!

Find them here!
Fishing Our Region
Cooby - It has been another reasonable week on our local lake, the bait fisherman have really had the most success again, Live shrimp, saltwater yabbies and Worms being popular. Other fishermen getting decent fish as well, the ever faithful Zx blade and smaller soft vibes Jigged vertically around the ramp and Sail club, The Northern arm has again produced good numbers amongst the deeper water.

Cressbrook - With the weather heating up this past week we have seen some progress finally, a good school has been located just right hand side of the ramp, slow rolling blades and plastics has worked as well as a variety of spoons. Other large lake points in the main basin are holding good numbers of Yellow Belly still, Jigging blades and slowly working Gulp Minnow grubs has been productive yet again, Ice Jigs have also caught there fair share.

Leslie - It's been the week of big cod, quite late in the season but consistent amount of large fish have been caught up to 113cm. Working the shallows on the low light periods has been key while fishing further into the day target the deeper water like the edges of the creek bed with soft vibes has also been productive. The Yellow Belly have again been on the bite, with the hotter temps around the fish have started to school in good numbers out from the dam wall along the edges of the creek. ZX Blades are to go past if you're chasing numbers of fish.

Somerset - It's that time of year when Somerset really comes into its own and the big fish being top bite, still not easy but it'll only get better within these next few weeks. Good patches of fish are still holding around Pelican Point and Red Rock. The Northend end of the lake around Queen street and the Kirkleigh flats have still been consistent. Spoons and plastics have been the flavour this past week, while these fish have been hugging the bottom good fish have been picked up on Smak Ice jigs as well.
Wivenhoe - If you're willing to put the time on this lake the fish are there and willing to eat, you just have to put the hard yards in to find them on this big lake, Spoons like the Palms Slow Blatt and Hot Bite G2 and raptor has been effective. The flats out from Billies bay around the 25ft mark is your best chance of finding those. Trolling is a great searching tool for this lake, trolling lures like the Little rippers and hide Up 400 cranks.

Monduran - The Barra Bite has started pretty early this year as the water begins to warm this past week. the early stages of the season targeting shallow water such as bays and larger points is a must as the water heats these areas first, lightly weighted 6inch plastics and suspending jerkbaits like the Samaki Redic and Jackall Squirrel, big long pauses with these baits is key to getting these fish to eat. Remember to always upgrade your terminals tackle on lures if you don't want to lose that fish of a lifetime. Follow the wind and you'll find those active feeding fish
The Weather
Toowoomba Region - 7 Day Forecast
Due to the changing weather conditions, please check
www.weather.com.au
 for more up to date information.

BIG CATCH Jackpot Promotion
Are you our lucky winner? Each week one luck customer will be drawn at random to win the Jackpot which starts at $25.
For each week that the jackpot is not claimed the prize will increase by $25. Jackpot resets to $25 once claimed.
CURRENT JACKPOT $50