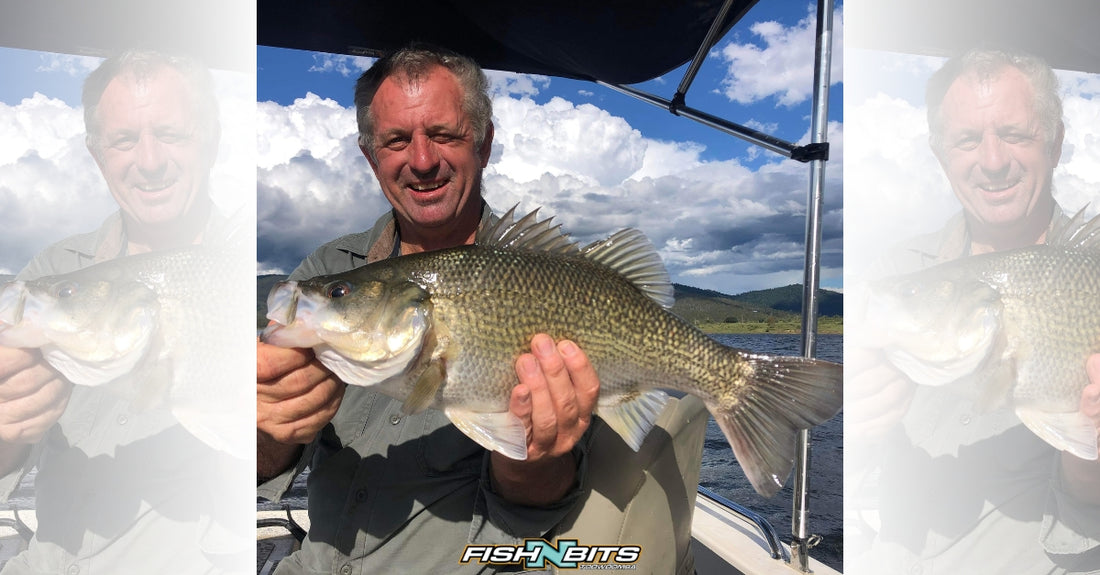 Fishing Report 28th April 2023
Photo:  Richard Seery with a Big Somerset Bass 
Share us your catch HERE
Product Of The Week - Humminbird Mega 360
Every detail, in every direction, now for every boat. The MEGA 360 Imaging - Universal transducer shows you a 360-degree, detail rich view around your boat. Now bring this technology to virtually any boat, thanks to an adjustable GeigerTec mount, made from billet aluminum. And since MEGA 360 is mounted independent of your trolling motor's steering, you'll have an uninterrupted picture of what's below, even while fishing in wind, waves or using Spot-Lock™.


Fishing Our Region
Cooby - Cooby is still having reports of better quality fish being caught in the early morning or late afternoon. Jigging ZX blades and soft vibes in the spindley structure has been popular. Trolling has also seen a few fish being caught using the Smak blitz bagas and Stumpjumpers around weed beds and rocky banks. As for the bait anglers using saltwater yabbies and Live worms have been getting the bites.

Cressbrook - The fishing at Cressbrook has been getting better seeing a few more fish schooling up. Using spoons such as the Hot bite g1s and g2s and Nories wasabi spoon as well as using blades and lipless crankbaits have been doing the damage. Targeting the deeper water around points is key. There has still been good numbers of red claw as well.

Leslie - Still the same at Leslie this week with plenty of fish being caught around structure on the bottom and edges of the creekbed. Using ZX40s, Soft Vibes and Lipless Crankbaits have been popular. Trolling has also had great success using Smak 19s and Kezza Mudmouses. As for the Bait anglers Prawns and Live Worms have been doing the job.

Somerset - Somerset has produced some good fish this past week. Pelican Point remains the location in particular the southern side around that 25ft mark. Blades, spectre vibration jigs and plastics have all had good results. Keeping your bait tight to the bottom is a must. Trolling anglers having some very good success, the smak range of hardbodies as well as the little ripper lures have been successful.

Coolmunda - With the colder weather coming in the Cod have been starting to become a little more active. Unfortunately the dirty water has still made things a little tough. The bait fisherman producing the better numbers, working the shallower water amongst the timber has been effective.

Glenlyon - The winter Bite has started quite early this year, already seeing some good fish getting caught on topwater and swimbaits, as the weather cools off even more we should see this lake fish very well. Good numbers of yellow belly have still been caught around the lake, targeting deeper points with timber, vertical fishing blades and soft vibes have been effective yet again.

The Weather
Toowoomba Region - 7 Day Forecast
Due to the changing weather conditions, please check
www.weather.com.au
 for more up to date information.

BIG CATCH Jackpot Promotion
Are you our lucky winner? Each week one luck customer will be drawn at random to win the Jackpot which starts at $25.
Week 9 winner Raylene Jones took out the Jackpot at $225. Congratulations Raylene Jones!
Week 21 winner Dave Newton took out the Jackpot at $300. Congratulations Dave!
First winner for 2023 Brett Jobling took out the Jackpot at $325. Congratulations Brett!

For each week that the jackpot is not claimed the prize will increase by $25. Jackpot resets to $25 once claimed.
CURRENT JACKPOT $150