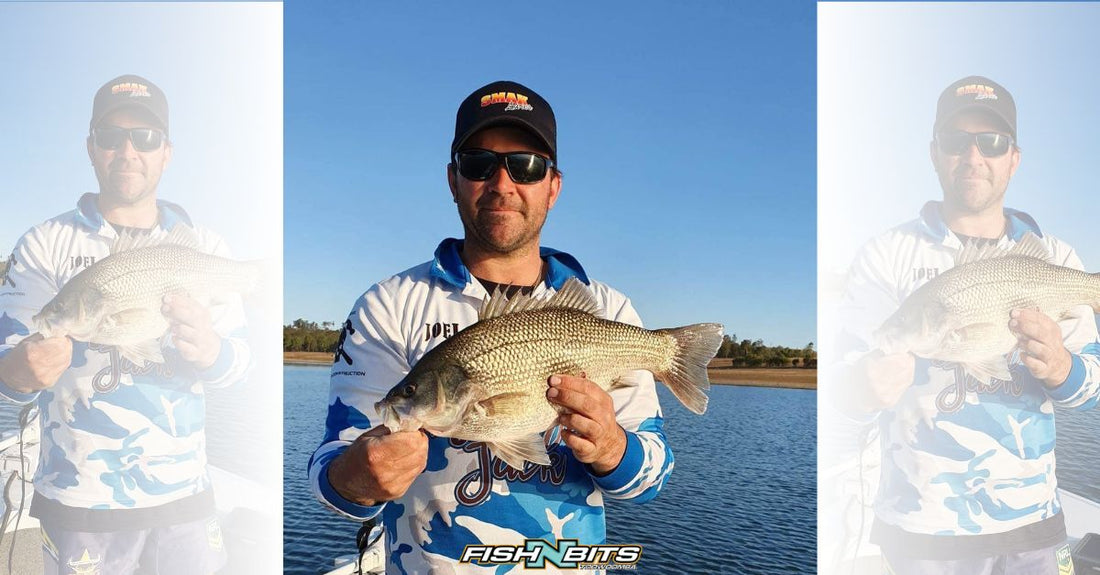 Fishing Report 31st March 2023
Photo:  Joel brazier with a nice Boondooma Bass  
Share us your catch HERE
Product Of The Week - Fish Obsessed - Dominator Mount
DOMINATE the water and take your fishing to the highest level with the most versatile and innovative livescope mount  available on the market.  We married the original Dominator and our zero degree mount to put together this turn key package deal at a discounted price!  Eliminate the guesswork and confusion on plug and play components.  Mount on trolling motor shafts or independent poles from diameter range 1.125" - 1.375".    Fully loaded and ready to go fishing Dominator style!
Perspective view:  The  perspective mounting bracket  with integrated ratcheting adjustments allows for more  time fishing and less time aligning your livescope views; all while keeping your transducer straight forward and vertically aligned. Allows for multiple starboard and port mounting configurations  for all types of mounting styles.  Designed to be the fastest multi-function mount that has the capability of converting forward/down view to perspective view in a variety of different configurations.   Ratcheting motion allows the user to quickly tune their perspective sonar images for varying water depths.  Quick view changes with total beam coverage will have you back to Fishing in seconds!
Forward view and down view:  The zero degree/straight clamps that we offer corrects the transducer geometry problem associated with the 8 degree clamp that came with the livescope kit, allowing you to have your sonar image, GPS position and transducer targets lined up.  This improves the accuracy of your readings in vertical and forward/downward mode, making it simple and intuitive to get on the fish you are seeing as well as locate your lure or bait on the sonar screen.


Fishing Our Region
Cooby - Once again Cooby is producing some good fish. Popular ways of catching fish has been ZX40s and Soft vibes such as Zerek Fish Traps and Samaki Vibelicious,jigging them around structure on the bottom has had good success. Jackall TN60s have also produced some nice fish trolling along weed beds and rock walls as well as trolling deep divers such as Little Rippers 18+ and Cooby Deep Diving Mighty Mite in the deeper water up the northern arm. The bait fishermen have had great success on Saltwater Yabbies, Live Worms and Prawns.

Cressbrook Dam - The Yellow Belly are still in good numbers whereas the Bass have been hard finding them in numbers, Deeper points such as the Bull Creek Arm has had better numbers of fish hanging around, using blades and plastics have seen better numbers being caught. With the fish being hard to find trolling has been popular with deep divers such as RMG Poltergeists and Little rippers finding the active fish. Red claw have also been caught in good numbers. As for the bait fishermen, Saltwater Yabbies and Live Worms have been the go to bait.

Somerset Dam - With plenty of fish being caught around Pelican Point, people have been having good success using the old faithful 3" Slider Grubs, Hot Bite Spectres, Bassman Spinnerbaits and Norries Wasabi Spoons. Spending time looking for the bigger fish has been paying off with plenty being caught in the deeper water around Pelican Point and the Spit. Trolling the deeper water has also been popular to find the active fish using RMG Poltergeists and Hideup Crankbaits. Red claw have also been caught in good numbers. As for the Bait fishermen, saltwater yabbies and live worms has had great success.

Leslie Dam - With plenty of Yellow Belly being caught Leslie has been the go to dam. Jigging ZX40s and Soft Vibes such as Zerek Fish Traps and Samaki Vibelicious have been popular. Working the edges of the creek beds with isolated structure seems to be where the larger numbers of fish have been hanging. Trolling the banks with Jackall TN60s has also been popular as for the deeper water Stumpjumpers have been popular. For the bait anglers , Saltwater yabbies, Live Worms and prawns have seen plenty of fish being caught also. 

Coolmunda Dam - Great to see this lake being quite consistent of late with some good Yellow Belly. The Southern end of the lake on the edges of the timber have fished well, trolling lipless crankbaits and shallower hardbodies along the tree lines has been successful. Another great option in this large is trolling old creek bed out from the wall, a deeper hardbody is ideal for this and has been getting plenty of attention of some larger fish.

Copeton - Winter is only around the corner and already seeing some very positive signs, reports of 2 fish over 1.20 have already been caught and numerous fish around the meter mark. These fish have pushed shallow quite early into the season and the fishing will only get better. The Jackall Gantarel and Gigantarel's have proved there worth amongst the shallow water. The Yellow Belly have been quite active, large lake points with standing timber has been the go too, targeting these fish with Zx blades and Gulp minnow grubs have been popular.

The Weather
Toowoomba Region - 7 Day Forecast
Due to the changing weather conditions, please check
www.weather.com.au
 for more up to date information.

BIG CATCH Jackpot Promotion
Are you our lucky winner? Each week one luck customer will be drawn at random to win the Jackpot which starts at $25.
Week 9 winner Raylene Jones took out the Jackpot at $225. Congratulations Raylene Jones!
Week 21 winner Dave Newton took out the Jackpot at $300. Congratulations Dave!
First winner for 2023 Brett Jobling took out the Jackpot at $325. Congratulations Brett!

For each week that the jackpot is not claimed the prize will increase by $25. Jackpot resets to $25 once claimed.
CURRENT JACKPOT $50