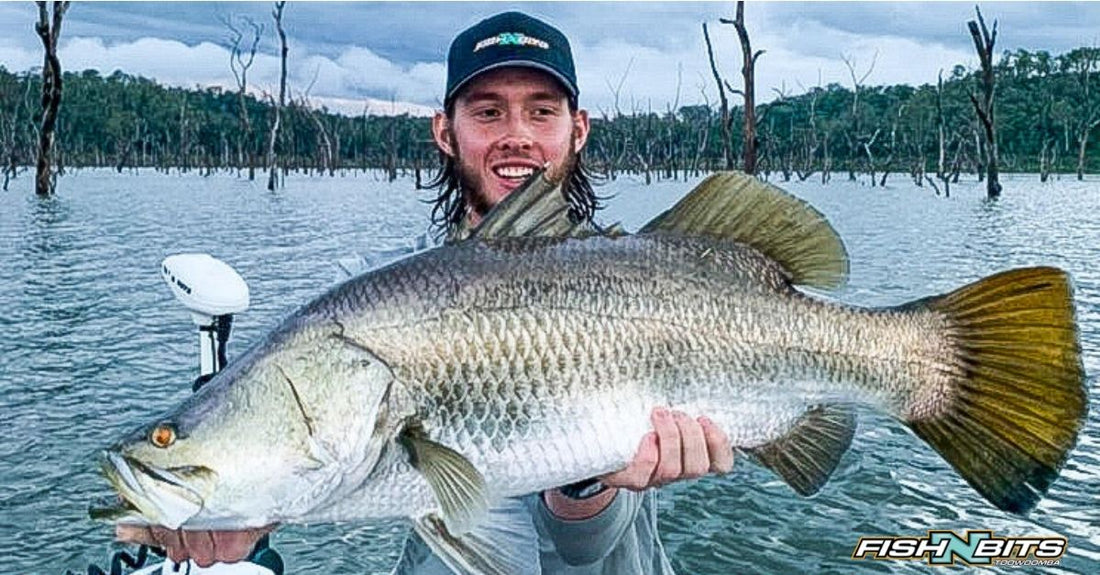 Fishing Report 9th December 2021
Photo: Sam Benbow with a solid Lake Monduran Barra  
Lure Of The Week  - Zerek Flat Shad X Jighead Model
At the heart of the Flat Shad X is the patented belly slits that allow the plastic to easily compress in any direction, exposing the hook to ensure solid hook ups. But the X takes the revolution to another level!

The Jighead Rigged Flat Shad X incorporates a Kevlar webbed tail that is segmented to provide incredible movement from the boot tail. This creates a rolling action as well as a beautiful undulating tail that fish can't help but attack when retrieved at the slowest of speeds.

In the two larger sizes (145mm and 170mm), the exposed jighead hook sits proud on top while a supplied stinger hook is fitted under the belly of the lure. But it doesn't end there! There is also a further stinger attachment eyelet above the eye of the lure on the head, just behind the towing eyelet. This allows anglers to place a treble up on top on weedy or snaggy country and swap out the bottom stinger for a flashy blade or similar.

The two smallest (90mm and 130mm) Flat Shad X features an internal jighead with a stinger attachment hidden in the collapsible belly area with the 130 sporting an additional stinger attachment above the eye like the 145mm and 170mm models.

Available in 11 colours that include natural patterns and attractor colours, the Jighead Rigged Flat Shad X will be available in a 90mm 8g, 130mm 28g, 145mm 54g and 170mm 74g option. Find them here: Zerek Flat Shad X Jighead Model
Fishing Our Region
Dam Levels 
Cooby - 36.4%
Cressbrook - 42.6%
Leslie - 100.27%
Dyer - 56.1%
Glenlyon - 103.76%
Coolmunda - 103.36%
Somerset - 73.5%
Wivenhoe - 44.3%
Moogerah - 71.9%
Maroon - 100.2%
Copeton - 99.7%
Pindari - 100%

Cooby Dam - Unfortunately Cooby is still CLOSED to all water based activities with on going Blue green Algae problems. 


Lake dyer - Dyer has seen some great inflow into the lake and continues to rise. This lake is unfortunately Closed but we should see it open in the coming weeks.

Cressbrook Dam - Cressbrook received a small rise in water level and the fish have reacted very well. The fish have move towards the edge, targeting the deeper weeded edges with Hot Bite Spectres and Spinnerbaits. Anglers have had some good sessions on the yellow belly, ZX blades and smaller soft vibes have been getting the bites.

Leslie Dam - Some very impressive reports over the past few days and even more surprising is how well the fish are biting after recent rain, Leslie is now 100% The bait anglers have taken advantage and having some crazy sessions. Saltwater yabbies and prawns both being effective

Somerset Dam - A big turn around on our local big bass fishery, anglers had some very good sessions over the weekend and continued through out the week.Again the stand out lures was the Hot Bite Spectre, fishing these baits right to the bottom is key. Red Rock, Pelican Point and the spit are all holding some very active fish, Queen street is still holding some very good numbers as well.

Lake Monduran - Our closest Barramundi lake continues to be the pick of the lakes with only receiving a small rise in water level not like other impoundments.
The main Basin is holding ridiculous amounts of fish and have been quite active through out the day, heavy lures like the Molix 140 and Zerek Live Mullet being the best options. Further up the lake we seen the fish come further off the banks and closer to the creek bed. As the weather heats up trolling can be the best method for these suspended fish the old faithful Barra Classic is your best option, also trolling heavily weighted plastics like Molix 140 and Live mullet has produced.

Lake Awoonga - Awoonga seen a massive rise over the last couple of weeks, the fish haven't been a huge fan of the amount of water the dam has received. With that being said there's still fish to be caught. Working the main lake points will still be your best option. If your willing to put in the effort you will be rewarded. Also with this rain coming into the lake, the very backs of bays and the river arms where the water dirties is a worth a check. Shallow diving hardbodies in the running water has been very effective.
The Weather
Toowoomba Region - 7 Day Forecast