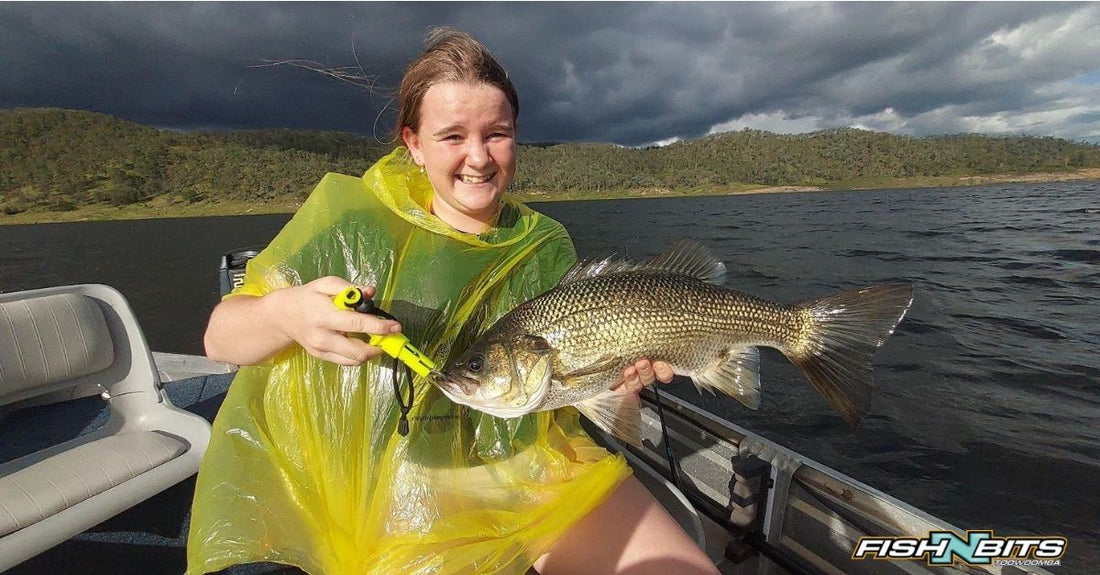 Fishing Report 11th February 2022
Photo: Mia Van Bael with a 54cm Cressbrook Bass
Product Of The Week -

Skull Cap Reel 
Guards
Protect your favorite reels from dings, dirt, and grime without having to remove them from the rod. Skull Cap Reel Guard is designed to snap into place around both right and left-handed combos while rigged. Constructed of high-impact durable rubber, the Skull Cap will keep your reels protected and reliable for years.
Find them here on this weeks specials page!
Fishing Our Region

Cooby Dam - Unfortunately at this stage closed to all water based activities. Current testing guidelines are in review and the lake will open at the end of march and have less strict guidelines which will mean open a lot more going forward.
Cressbrook
-
Like a lot of Bass lakes the fishing can be hit and miss with small bite windows that produce a frenzy of fishing followed by long periods of nothing. This has been the case at Cressbrook lately, a morning and a mid afternoon bite that's produced some large bass. Followed by time where you can find the fish but it's hard to get them to bite. Chatterbaits worked slowly along the bottom has been the best way to imitate the yabbies that they are feeding on. Hot Bite Spectres are again the stand out lure. while live bait has been best and even a few good yellowbelly coming in on salt water yabbies.
Boondoomba Dam - Some decent fishing at Boondooma for both bass and yellowbelly. The quality fish have been coming from the timbered areas up the back in the boyne and stuart arms. Fishing Jackall TN60's and Spinnerbaits has been best for both species. While there are still good fish in the main basin they haven't been as eager to bite. Live worms have been the bait of choice.
Leslie Dam - It's been a busy week at Leslie with a lot of boat traffic, this has a big effect on the fishing and the numbers caught have definitely slowed this week. Still decent numbers of smaller yellowbelly and some smaller cod caught at both ends of the lake. More yellowbelly up the back of the lake around the 'Black Bouys' while more cod have been caught at the dam wall end. Saltwater yabbies have dominated the catches along with EcoGear ZX Blades.
Somerset Dam - Much Like Cressbrook the bass are really hit and miss with small bite windows. Early morning has had good success along with mid week fishing opposed to the weekends. Most of the good bass have been caught hard on the bottom in around 22ft around Pelican Point and Kirkleigh. The Spectre Vibration Jigs have again been the go to lure. while trolling deep divers and bumping the bottom has been a successful way to catch a few. There has been some good yellowbelly caught in the back end of the lake between Kirkleigh and the timber on saltwater yabbies and ZX Blades.
Wivenhoe Dam - More consistency at wivenhoe with decent numbers of bass and yellowbelly caught along with cricket scores of catfish. The fish are spread all over the lake with anglers catching fish anywhere from the deep to land based on the edges. Trolling has had the most success in around 20ft of water but also some decent fish coming from the steeper banks on Jackalls and spinnerbaits.
Monduran Dam - The Hot Barra fishing that we have been having has slowed a little with the barra getting a bit more tight lipped. Good numbers of barra are still easy to find in the main basin and any of the deeper channels around 20ft, But they have been a little harder to tempt. Most fish sitting between 16-20ft in a thermocline of water keeping the lure in their face as long as possible is the key. That's why trolling has been working best, Classic Barra 15+ lures have been great along with other deep divers like Lucky Craft Pointer XD and Jackall Super Squirrells. Trolling these lures keeps it in the strike zone for the longest time. other great way is adding tungsten weight to your lures and sinking them down to the strike zone and using soft twitches and long pauses can help tempt the tough fish.

The Weather
Toowoomba Region - 7 Day Forecast



BIG CATCH Jackpot Promotion


Are you our lucky winner? Each week one luck customer will be drawn at random to win the Jackpot which starts at $25.
For each week that the jackpot is not claimed the prize will increase by $25. Jackpot resets to $25 once claimed.
CURRENT JACKPOT $50