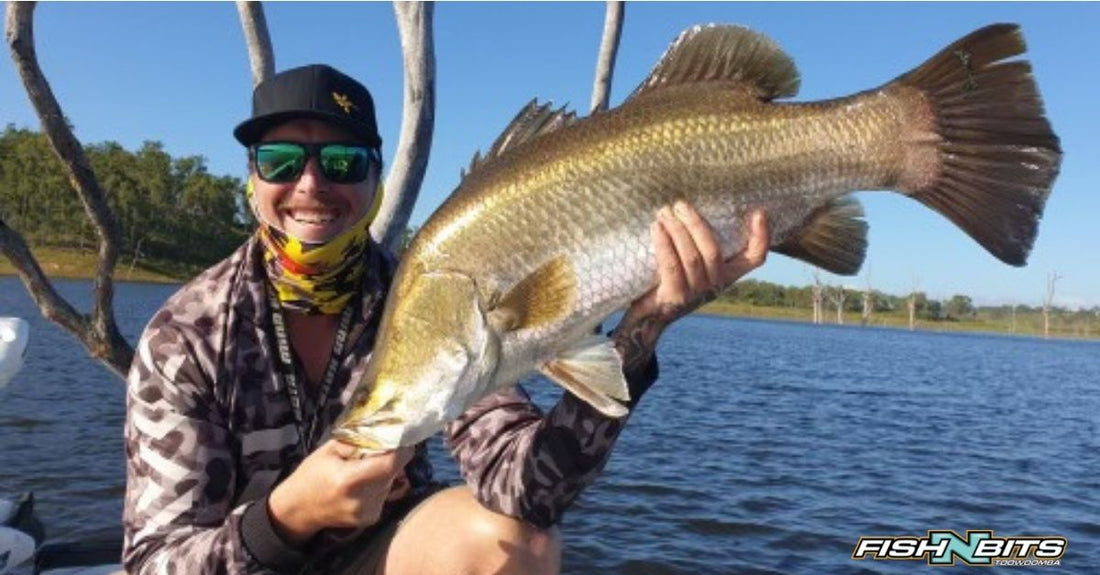 Fishing Report 18th March 2022
Photo: Nick Russel with a Mid week Barra from Monduran
Product Of The Week -

Gomexus Custom Handles



Quality-crafted: Made from 7075 Aluminum and comes with Japanese NMB bearings, that often last longer and are more sensitive to feel bait action underwater. The handle feels solid and great.
Buttery smooth: It feels as buttery smooth as the stock handle.
Great rubber grip: The knobs spin and ride on the bearing for some time.
Perfect fit: Fits perfectly when put on a compatible reel.
Easy to install: Takes less than 2 minutes to take the old handle off and put the new one on.
Plenty of extra pieces: It comes with all of the small parts you need and doesn't require an adapter to fit.

Benefits:

- Available in custom colors and gives your reel a stunning look.

- Makes your old reel feel brand new.

- This handle is suited for big swimbaits.

- The knobs are great and your fingers will thank you later.

- The grips feel great and have a generous amount of space to hold on to when reeling in fish!

 - The power knobs give you full control when cranking a bait or fighting a fish.

- It looks killer and performs like a beast.
Compatible Products:
7x4mm Shimano:
Curado 200e, Curado DC,Calcutta B,Calcutta conquest 100 200, Antares, Scorpion, Metanium, Bantam

8x5mm Shimano:
Curado 300e, Cardiff 300, Tranx 300 400, Calcutta conquest 300 400

8x5mm Daiwa:
Tatula, Luna, Ryoga, Steeze, Zillion

8x5mm Abu Garcia:
Zata, Revo, Revo SX, Revo Rocket, Revo Winch, Revo Beast.
Find them here on this weeks specials page!
Fishing Our Region

Cooby Dam - Unfortunately at this stage closed to all water based activities. Current testing guidelines are in review and the lake will open at the end of march and have less strict guidelines which will mean open a lot more going forward.

Cressbrook - OPEN - Cressbrook reopens today and it is sure to fish well as the water begins to settle. We will see big numbers of Red Claw on the move as they begin to move up to shallow new water. Casting banks amongst the shallow water could be your best bet, targeting these fish with reaction style baits like Spinnerbaits and Lipless crankbaits.

Leslie Dam - Another great week at Leslie, this lake has not changed after the rain and still continues to fish unbelievably well. With big numbers of small yellow belly willing to eat a bait or lure. Zx blades and soft vibes jigged vertically throughout the 15-20 foot of water has been very successful. Also a few smaller cod have been caught this week trolling the edge of the creek bed.

Somerset Dam - OPEN - Somerset No reports as of yet as this lake only just reopened a few days ago but don't let that stop you. The southern end of the lake should see big schools of fish, Pelican Point and the spit is worth a look. With the red claw around after the recent rain fishing lures like the Hot Bite Spectre is sure to be a winner once again..

Monduran - With the last rainfall putting a lake up another 1.5m it has made the fishing that little bit tougher, as the lake settles we should be in for some great edge fishing as these fish become familiar with their new surroundings. Casting shallow with soft plastics and suspending hardbodies has been effective already. The deep water fish haven't been affected amongst the main basin and continue to react well to trolled hard bodies or heavily weighted plastics. The 10ft Barra classic has been the stand out.
The Weather
Toowoomba Region - 7 Day Forecast



BIG CATCH Jackpot Promotion
Are you our lucky winner? Each week one luck customer will be drawn at random to win the Jackpot which starts at $25.

For each week that the jackpot is not claimed the prize will increase by $25. Jackpot resets to $25 once claimed.
CURRENT JACKPOT $175